News
October 25, 2018
The Make-Up Lounge Opens in Schenectady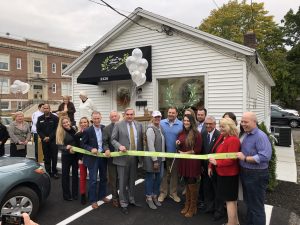 The Chamber along with many local officials, Chamber Ambassadors and a large family of support helped welcome The Make-Up Lounge, LLC to the City of Schenectady on Wednesday, October 24.
Brittany Bradshaw is the passionate creator of The Make-Up Lounge, LLC. She is a certified, professional makeup artist. Brittany and her team specialize in prom, glamour, photoshoot, HD, and TEMPTU airbrush makeup, eyelash extensions, full salon hair services, and most notably, in-salon and on location bridal hair and bridal makeup services.
After graduating in 2006 from Schalmont High School, she explored several different professional avenues, including a seven-year job at Schenectady ARC, where she discovered one of her many passions, helping others. She formed a very strong and lasting bond with one individual in particular, her best friend, Corey. Corey has autism, but that only makes him more special in her eyes. She has been his advocate since 2016 and you can find her spending a lot of free time hanging out with him. Although she loved her position supporting people with disabilities at Schenectady ARC, she knew she couldn't ignore her passion for makeup.
Ever since she was young she had a passion for all things beauty related, and for love. She earned her certification in Makeup Artistry from Austin's School of Spa Technology in 2015. After graduation she quickly became the Senior Makeup Artist for a local makeup business before branching off on her own. In 2017, she earned her certification in eyelash extensions through Xtreme and she seamlessly applies them to her clients at her salon.
She chose the location of her salon because it was the location of her cousin's hair salon for 38 years, and her retirement created the opportunity for her to continue her cousin's legacy as a business owner. The Make-Up Lounge, LLC brings a unique perspective to the field by offering services like makeup, eyelashes, and wedding services all in one spot, which sets her apart from other salons in the area. Owning her own business also gives her the opportunity to give back to the community in a special way. An example was teaming up with Carter's Crew by providing 20% off salon services for everyone who attended their 4th annual Orange Tie Gala, which raised money in support of the Capital Region's autism community.
While she enjoys every aspect of the makeup profession, she particularly enjoys glamming brides and their girls, and she's been lucky enough to assemble a team of like-minded makeup artists and hair stylists. Being part of a bride's special day means everything to her, and she will ensure each bride's glamour needs are met from start to finish.
Brittany remarked, "I have a "sit back, relax, and get your glam on" philosophy, and really, what bride doesn't love the sound of that? I very much look forward to working with many more bridal beauties in the future!"