Diversity, Equity and Inclusion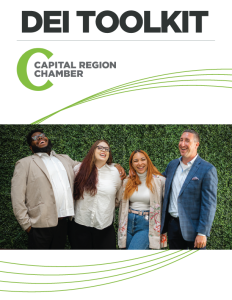 The Capital Region's most valuable resource is its people! An essential element to our shared prosperity and business strength, is our ability to cultivate diverse, equitable and inclusive places to work, live and enjoy.
The Capital Region Chamber is on a journey to set and advance a number of intentional strategies related to diversity, equity and inclusion. This page houses a number of resources that we have found beneficial in this work, on both an individual and organizational level, as well as for our membership.
It is our hope that these resources will offer encouragement and insight about how to embrace diversity, equity, and inclusion as fundamental values – and how to make sure these values are reflected in the operations and activities of your business.
Diversity, equity and inclusion (DEI) have become bottom-line imperatives upon which businesses can build, grow and thrive. In other words, increasing diversity and growing inclusion is not only the right thing to do, it's the smart thing to do. When we engage individuals reflective of the full spectrum of our region, we drive innovation, enhance productivity and experience inclusive economic growth. The Capital Region Chamber is committed to providing leadership in the DEI space, by emphasizing best practices, engaging strategic partners, and applying innovative solutions to workforce, workplace and marketplace challenges.

Capital Region Chamber Diversity Statement:
The Capital Region Chamber believes that full potential is realized when diversity, equity and inclusion are the standards upon which we strengthen and impact our businesses and communities. As an advocate for regional businesses, the Chamber – through its leadership, actions, educational programming and community collaboration – is committed to cultivating inclusive economic opportunity for all who call our region home.
Your Capital Region Chamber achieves this by:
Creating an environment that engages diverse individuals and perspectives through intentional inclusion
Seeking out, implementing and promoting best practices
Cultivating a more diverse and inclusive membership, board and workforce
Educating businesses on creating a more diverse and inclusive culture, workforce and community
Advocating for policies and initiatives that eliminate barriers to equitable opportunity
The Capital Region Chamber welcomes the unique perspectives and contributions of all people. We value and respect diversity in terms of individuals' education, opinions, culture, ethnicity, race, sex, gender identity and expression, nation of origin, age, languages spoken, veteran's status, color, religion, disability, sexual orientation, citizenship/immigration status and beliefs.
For more information on the Chamber's Diversity, Equity and Inclusion initiatives and programs, contact Jason Benitez, Vice President, Diversity, Equity and Inclusion at 518.431.1415.