News
February 1, 2019
Whitney Young Health Hosts Ribbon Cutting for New Breastfeeding Lounge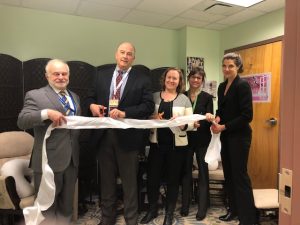 Whitney Young Health's WIC Program, a state-funded program for pregnant, postpartum women, infants and children under the age of five, hosted a ribbon cutting of a new breastfeeding lounge at their Albany Health Center. This lounge was funded through a grant awarded to St. Peter's Health Partners by the Albany County Department of Health. The "Creating Breastfeeding Friendly Communities" grant focuses on establishing breastfeeding friendly community support for families, from pregnancy through infancy, to increase breastfeeding initiation and duration.
"Whitney Young Health's innovative WIC program plays a vital role in providing nutrition education and breastfeeding guidance to women, children and infants in our community." says Katie Palmer, Whitney Young Health's WIC Program Director, "We are honored to partner with St. Peter's Health Partners and the Albany County Department of Health on our new breastfeeding lounge that will serve this growing population, and we thank them for the grant that made it possible. Together, we are making an impact on wellness in young families in Albany County."
The breastfeeding lounge is open for both Whitney Young Health patients and staff. The space will allow working moms and patients to have a private and comfortable place to express their breastmilk. It could mean the difference of maintaining an adequate milk supply or being forced to supplement with infant formula. Outfitted with a rug, comfortable chairs, soft lighting, colorful walls and artwork, and a white noise machine to drown out ambient sounds, the breastfeeding lounge will serve many parents and their children well.