News
December 6, 2018
Two Schenectady CPA Firms Announce Merger and Open New Office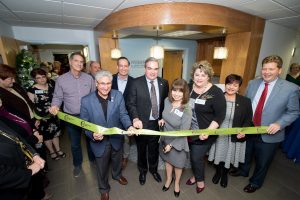 Watson, Peterson & Company CPAs, PLLC and Colleen Campoli CPA, two local accounting firms, have merged and will operate a full-service accounting firm under the name Peterson, Campoli & Associates CPAs, PLLC.
Partners Heather Peterson, CPA, and Colleen Campoli, CPA, have more than 50 years of combined accounting experience and both companies were known for providing superior, personalized service to their clients.
The new structure allows the firm to serve a more diverse client base and offer expanded services including tax preparation services for individuals, businesses, and not-for-profit organizations, assurance and advisory services, estate and trust planning, fiduciary taxation, and concierge finance services for seniors.
"I was inspired by my mother, Susan Watson, who started the firm in 1991," said Heather Peterson. "I am thrilled to be able to continue her vision of building strong client relationships based on integrity and respect. And, I am excited about building the best possible accounting team for continued long-term growth."
"This is a partnership between people with shared values," said Colleen Campoli, "and I believe it will be extremely beneficial for both our team and our clients. We are proud of the reputation we have built and have always been committed to offering the best service to our clients."
The firm has moved into its new location at 1473 Erie Boulevard in Schenectady, NY, and employs six Certified Public Accountants and five support staff.
The company hosted a ribbon cutting and open house on Wednesday, December 5. Guests were asked to bring a hat or gloves to be donated to The City Mission of Schenectady.
Heather Peterson is a graduate of the College of Saint Rose and is actively involved in the local community. She currently serves as President of the Board of the Downtown Schenectady Improvement Corporation (DSIC) and is Co-Chair of the Glenville Oktoberfest. She received the YWCA Susan Rosenthal Woman in Business Award in 2015. She lives in Glenville with her husband and daughter.
Colleen Campoli is a native of Schenectady and a graduate of Siena College. She is Treasurer of the Wiawaka Holiday House and enjoys skiing. She lives in Rotterdam with her husband and son.
Both women are members of the American Institute of Certified Public Accountants and the NYS Society of Certified Public Accountants.
About Peterson Campoli & Associates CPAs, PLLC
Peterson, Campoli & Associates CPAs, PLLC, is a full-service accounting firm serving clients throughout the Capital Region.
Known for their tagline, "Not your father's accounting firm," they are dedicated to providing their clients with professional, personalized services and guidance in a wide range of financial and business needs including:
• Tax Management for individuals, businesses and not-for-profit organizations
• Assurance and Advisory Services
• Estate and Trust Planning and Tax Preparation
• Concierge Finance Services for Seniors
• Cash Flow & Budgeting Analysis
• Mergers, Acquisitions and Sales
• IRS Representation
• Accounting Services
For more information, visit www.petersoncampoli.com.