News
February 11, 2022
Town Square Luxury Apartments Opens in Clifton Park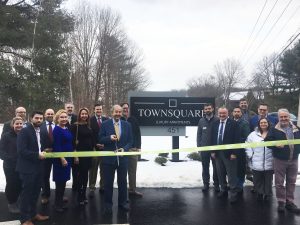 The Chamber was elated to take part in a ceremonial ribbon cutting for Town Square Luxury Apartments on Thursday, February 10. The Chamber was joined by Ambassadors, local and state elected officials and the business community of Clifton Park.
Located 451 Clifton Park Center Road, the three story building has spacious, well appointed units ranging from studios to two bedroom, two bath apartments. The apartments are conveniently located, with food, shopping and entertainment close by! Security is a high priority and the high tech equipment gives the tenants peace of mind.
The Phillips and Murray families are the owners of this new complex and have made countless contributions to the Saratoga County/Clifton Park area. All of the projects they complete are top notch and this one is no different.
All ribbon cuttings are sponsored by Saratoga National Bank and Trust Company.