News
January 17, 2019
These Twins Are Set To Electrify The Future & Break Glass Ceilings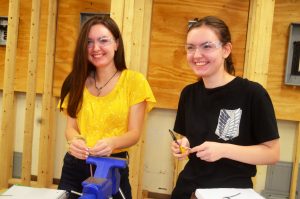 They certainly aren't conforming to stereotypes, but a pair of high school juniors are set to electrify their future.
Quinn and Sydney Rickard are juniors from the Schalmont Central School District in the Capital Region BOCES Career and Technical School Electrical Trades program and have set their collective sights on a future as union electricians.
"It's fun. I like working with my hands and working with electricity," said Sydney Rickard during a recent break from class.
The dynamic pair who struggle to not smile while talking are charting a non-traditional course in a program and a career that is largely dominated by males. Approximately three percent of 750,000 electricians in the United States are female and only a handful of females are enrolled in the Capital Region BOCES program each year.  However, the path that led them to the electrical trades is as traditional as it gets.
"Our father and our brother are both electricians," Quinn said. "Our brother (Calvin) graduated from here and he told us how great the program is, how great the teachers are."
Their passion for working with electricity was fostered at an early age by their father, Darrick (cq), who works with the International Brotherhood of Electrical Workers (IBEW).
"Our dad would take us on his side jobs with him. He would have him help him with small stuff. We just liked it. It was exciting and fun," said Sydney.
The twins collectively praise the Capital Region BOCES program and teachers John Puglisi, Jeff Hayes and teaching assistant Rich LaTorre.
"The teachers are great. They tell us how it is, give us helpful feedback and tell us how it will be in the real world, which I really appreciate," Quinn said.
"The fact that it's hands on and that we will be able to create our own labs to work on next year is really exciting. It makes the learning fun," added Sydney.
Asked about learning in a largely male classroom and entering a largely male-dominated career path, both girls said they don't view it as a problem.
"I guess we should be intimidated, but we are not," said Sydney.
"It's beneficial that we are girls because they all treat us nicer. They don't bust on us as much as the others," added Quinn.
Teacher Puglisi said the pair light up his classroom.
"They are excellent students. They are attentive, diligent about their work and have good skills," he said. "They have bright futures."