News
January 24, 2022
The Pavilion at the Hockey Hut Opens in Clifton Park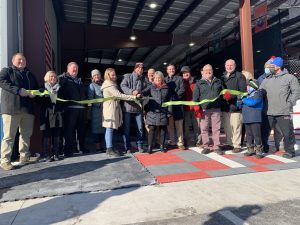 The Chamber was excited to take part in a ribbon cutting for the Pavilion at the Hockey Hut on Saturday, January 22nd.
Ron Kuhl and wife Debbie cut the ribbon, joined by General Manager Curtis Hovey,  representatives of Assemblywoman Mary Beth Walsh and Senator Jim Tedisco,  Clifton Park Town  Supervisor Phil Barrett,  Councilwoman Amy Flood,  and Highway Superintendent Dahn Bull .  Rob McCormick, Chairman/President/CEO of Trustco Bank, which provided the financing, was there along with his associate Joe Lucarelli,  and Dick Schlansker and Joe Tamborello of Plank Construction, which built it,  were also present.   The Chamber had three volunteer Ambassadors present to help me cut the ribbon,  led by Alan Baker.   And Melissa Schuman of the Saratogian was there to cover along with Channel 10 News, and a whole bunch of well wishers.
Ron has been helping kids learn hockey for a long time.   One of those "kids" is now a grown up:  Teagan Ketcham, a former student now Marketing Director for the Hockey Hut,  pointed to a picture of herself as a little one that is displayed on the wall.   We are a family community after all.   And to find the Hockey Hut,  remember…."Don't Hesitate, Stop at Exit 8!"
All 2022 ribbon cuttings of the Capital Region Chamber are sponsored by the Saratoga National Bank and Trust Company.