News
September 27, 2019
Area's First Accredited Urgent Care Opens in Guilderland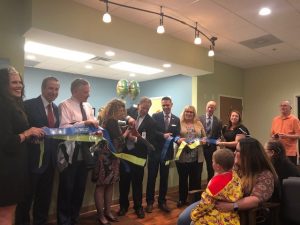 On Thursday, September 26 the Chamber along with many supporters took part in the opening of Priority 1 Urgent Care, the first Urgent Care Association accredited urgent care in the Capital Region.
Dr. Jonathan Halpert of Delmar, who has over twenty years' experience locally in emergency and urgent care medicine, says his motivation for opening his own center was the noticeable decline in the personalized doctor-patient relationship he feels is central to quality health care. He designed the center based on a vision of an on-demand medical experience that is distinctly different from what other area facilities offer.
"I wanted to provide the local community with an option for high quality, timely urgent medical services where every patient is seen by an experienced doctor in a comfortable, welcoming setting—not in the kind of institutional office that so many local urgent cares have unfortunately become. Every minute Priority 1 is open, patients can walk in and quickly be seen by a doctor and provided with an exceptional, personalized experience."
Unlike various "big box" urgent care centers that have cropped up overnight throughout the Capital Region, Dr. Halpert spent well over a year planning the design and construction of Priority 1 Urgent Care. With an eye toward patient comfort and convenience—features such as complimentary WIFI, beverages, and television in every examination room are combined with important clinical details like on site X-Ray and laboratory services. Located at 2080 Western Avenue, in the Hamilton Square Shopping Plaza in Guilderland, Priority 1 is open weekdays from 8 a.m. to 8 p.m. and weekends from 10 a.m. to 6 p.m., including most holidays.
"Providing exceptional care by experienced doctors in a warm and welcoming environment with attention to patient comfort is just a few of the qualities we call the "Priority 1 difference," Dr. Halpert said. "When patients are sick or injured and in need of urgent medical care, we want them to feel as welcome, relaxed, and comfortable as possible, from the moment they walk through our doors to the moment they leave."
Another key difference for Priority 1 Urgent Care is its recent certification as an Accredited Urgent Care Center from the Urgent Care Association (UCA), which is the highest designation an urgent care center can obtain. In order to become accredited, Priority 1 met or exceeded all of the Urgent Care Association's established national standards and criteria for quality of patient care, patient safety, scope of services, and business practices.
"The standards required in order to obtain UCA accreditation are very high, just as my own standards for Priority 1's performance are very high," Dr Halpert said, "which is to provide exceptional, personalized, on-demand health care to every patient we see."