News
December 6, 2018
Sunmark Federal Credit Union Breaks Ground at New Brunswick Branch Location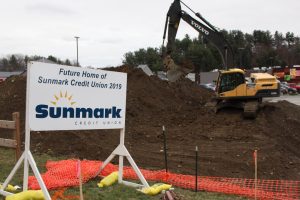 Sunmark Federal Credit Union (Sunmark) officially broke ground at the site of their new branch located at Brunswick Plaza, 722 Hoosick Street in Brunswick.
Once completed, the 2,000 square foot branch will be a full-service location including new Interactive Teller Machines (myTM's©). Sunmark myTM's© provide full service banking transactions for Sunmark members, as well as ATM transactions for non-members, in a fully integrated self-service kiosk platform that is available 24/7.
The branch will be staffed, during regular business hours, with personnel to assist members on an as needed basis. Two lanes of drive through service will be available and after daily operating hours, the drive-thru myTM's© will be available for members to use on their schedule.
Sunmark CEO Frank DeGraw said, "It's exciting to break ground on our third branch expansion project in three years for Sunmark." He added, "We are not only bringing the latest technology to our new Brunswick branch, but our belief that every hard-working Rensselaer County resident should see their money work for them, not someone else."
The Brunswick branch location is scheduled to open in 2019. Empire Real Estate Management, LLC is assisting Sunmark on the project.