News
May 23, 2023
Northeast Toner Celebrates 35 Years as Malta-based Cartridge Remanufacturer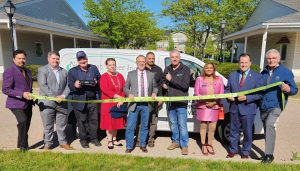 In 1987, a small, home-based remanufacturer of laser print cartridges started in our area. The industry was in its infancy, and laser printers were large, bulky, and expensive. Remanufactured cartridges provided a lower cost option to brand new ones, but still with the OEM quality desired by businesses. 35 years later, under second generation president Craig Trietiak, Northeast Toner (100 Saratoga Village Blvd, Ste 53, Malta) is still going strong, though faced with challenges from low quality China-made products which entice buyers with low prices but cannot be recycled and often self-destruct when the user attempts to print with them.
Did you know that it takes 3 quarts of oil to make a toner cartridge? And since OEM cartridges can often be used/remanufactured 20 times, they will save 57 quarts of oil over their lifetimes over the cheap, throwaway ones now filling our dumpsters and landfills? Choosing a high capacity, OEM-style cartridge and having it remanufactured by Northeast Toner ensures good quality printing and a huge benefit for the environment.
On May 17, the Capital Region Chamber, along with our affiliate the Chamber of Southern Saratoga County and its Malta Business Community Alliance (MBCA) committee, celebrated the occasion with a commemorative plaque and ribbon cutting, assisted by Saratoga County Clerk Craig Hayner, Malta Town Supervisor Craig Hayner, Kimberly Milligan representing Assemblywoman Carrie Woerner and Rayan Aguam representing Senator Jim Tedisco.  Other local businesses joined volunteer Chamber Ambassadors in supporting the event.
For more information on Northeast Toner, visit northeasttoner.com or call (518) 899-5545.
All 2023 ribbon cuttings of the Capital Region Chamber and its affiliates are sponsored by the Saratoga National Bank & Trust Company.