News
October 12, 2022
NFP Ribbon Cutting for New Office Space in Albany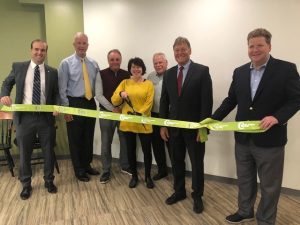 The Capital Region Chamber was thrilled to be a part of the Ribbon Cutting for NFP, a leading property and casualty broker, benefits consultant, wealth manager and retirement advisor.  NFP announced it has signed a lease for and moved into new office space in the company's Albany market. The move accommodates company growth in the region and provides an improved presentation and collaborative meeting space for clients and vendors.
"This move reflects the health of our business, the strength of our commitment to the greater Albany area, and our evolving workplace," said John Murray, NFP's managing director, Northeast region. "We're looking forward to the ribbon-cutting ceremony with local officials and the in-person collaboration within the new office space with employees, clients and vendors."
The new 16,000 square foot office is now the workplace for more than 90 NFP employees. Located at 159 Wolf Road in Albany, the office is close to the Albany International Airport, public transportation and major highways. It is also located in a desirable area that features a variety of restaurant and shopping options.
All 2022 ribbon cuttings of the Capital Region Chamber and its affiliates are sponsored by the Saratoga National Bank & Trust Company.