News
February 10, 2020
Mike Tucker and Wendy Holsberger of VHB Promoted to Expanded Leadership Roles
Mike Tucker, PE and Wendy Holsberger, PE, PTOE have been promoted to expanded leadership roles at VHB.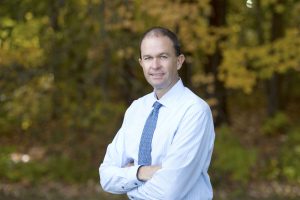 Mike Tucker, PE has been promoted to Northeast Regional Land Development Service Leader. Formerly the Albany Office Managing Director, he will now shift his focus to developing strategies to grow the land development service line and raise VHB's prominence in the firm's Northeast region. Mike will oversee services such as permitting, site design, stormwater management system design, and utility infrastructure design for private, institutional, and public-sector clients across VHB's Albany, Hauppauge, New York City, and White Plains offices.
Wendy Holsberger, PE, PTOE will take on an expanded leadership role at VHB as the Albany Office Managing Director (OMD), responsible for overseeing the strategic/operational direction of the Albany office. A transportation engineer with 30 years of experience, Wendy arrived at VHB and spearheaded the traffic engineering and transportation planning practice at VHB's Albany office. She has experience in the management and performance of traffic impact analysis, safety evaluations, and engineering services for private- and public-sector real estate, transportation, and infrastructure projects. Wendy will continue to lead this group, maintaining her role as Director of Transportation in addition to OMD.
VHB's Albany office is one of 31 locations on the US East Coast, rapidly growing to become one of the top consultants in the Capital Region.