News
March 4, 2021
Member Spotlight: Vitality Transformations
Rebecca Vargo founded Vitality Transformations in January 2021, when the world was still in the midst of a global pandemic. Some may question starting a business during COVID, but the idea of being her own boss had been brewing in Rebecca's mind for years.  Even after encountering many challenges, she was not willing to give up her dream.
As a part time group fitness instructor and personal trainer, Rebecca had thought about quitting her full time, secure job and starting her own business, but she was scared by the idea. After her father passed away in April 2020, Rebecca had to quit her job to provide care for her mother who was in the late stages of COPD. Says Rebecca, "this unfortunate circumstance was the starting point of Vitality Transformations."
To capture how her life was transforming, Rebecca started a blog. She wasn't sure where it would go – she was just taking life one day at a time. When her mother passed away in August she was left with a decision: go back to her old job and life or move forward with a new career that had been stirring inside her. She decided on the latter, and moved full steam ahead! "I desperately missed teaching yoga and I knew I had to find a way back to my mat. That was when I decided to finally create Vitality Transformations."
Starting a business is never easy, but starting one during a pandemic is even tougher. However, Rebecca used the quarantine to her advantage when she launched her business as 100% virtual. She offers group fitness classes, personal training and other valuable resources to individuals – all of which they can do from home! "Vitality Transformations provides 'live' group fitness classes where you can interact with the instructor and other participants in the environment of your choice. The room is never too cold, hot, or bright. The music is never too loud or soft."
Gone are the days of having to miss a workout when you go on vacation or on a business trip. The class you are accustomed to can travel with you if you wish. Rebecca remarks that she hopes restrictions continue to lessen, but she believes many people will continue to value the convenience of having home-based workouts.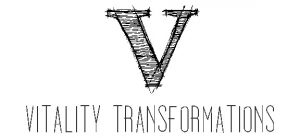 On Rebecca's website you will notice the logo in the upper left – the letter "V." The inspiration for this is Rebecca's father, who was a creative bladesmith for many years. "He used to mark all of his knifes and axes with a V for the first initial of his last name. This V has become a well-known trademark for his work. He was one of the most creative and inspiring people I ever knew and I wanted to bring him along with me on this journey. I was able to replicate his trademark V and use it as my logo. Most people would think the V stands for Vitality Transformations, but to me it stands for a whole lot more."
As a newer member of the Chamber, Rebecca says she is very excited to meet some amazing people and looks forward to networking and sharing her business idea with others.
What is that Rebecca loves about the Capital Region? "The area has a very diverse population and a wide variety of businesses that all seem to work together in harmony. I know many small business owners who have achieved their dream in the Capital Region and I feel that this area really supports the entrepreneurial spirit." She goes on to say that while she's not a native of the Capital Region (she moved here from Northern New York in 2006), she couldn't imagine living anywhere else.