News
August 29, 2019
Member Spotlight: Tri-City ValleyCats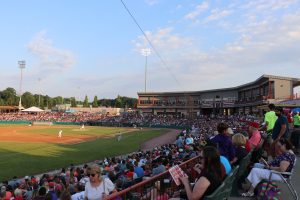 As the season winds down for the Tri-City ValleyCats, we sat down with the organization's President, Rick Murphy for this week's member spotlight!
Murphy had the opportunity to turn his passion for baseball and business into a career by getting involved with a partnership that purchased the Little Falls Mets of the New York-Penn League. The franchise owned and operated a Short-Season Single A Affiliate of the New York Mets. The franchise relocated to Pittsfield, Massachusetts in 1991. In 2002, the franchise relocated to Joseph L. Bruno Stadium on the campus of Hudson Valley Community College in a new state of the art stadium that became the home of the Tri-City ValleyCats, an affiliate of the Houston Astros.
Says Murphy "The market size of 650 thousand people within a 30-mile radius provided enormous potential. However, the construction of a new 4,500 seat state of the art stadium within that market was the primary reason we chose this location. In addition, the Capital Region's rich tradition of professional baseball dating back to the late 1800's deepened the appeal of the Capital Region."
As a participant of baseball through college, Murphy had a thorough understanding of the on-field aspect of the sports management business. After graduating from the Carroll School of Business at Boston College, he began his sports management career. Most of his training came in the form of on-the-job and through mentors within the industry. There are 160 minor league franchises that comprise the National Association of Professional Baseball (MiLB). The Tri-City ValleyCats participate in the New York-Penn League, a short-season league that plays a 76-game schedule from mid-June through early September.
Murphy estimates the total economic impact on the Capital Region generated by the Tri-City ValleyCats at about $20 million annually. This includes the impact of all spending by the ValleyCats, the operation of Joseph L. Bruno Stadium, and all fan spending as it flows through the Capital Region economy. Currently, the ValleyCats organization employs 14 full-time and 240 seasonal employees.
What business lessons can be learned from the ValleyCats' success? "Every day is a new opportunity. In real estate it is location, location and location. In the sports industry it is the fan experience, fan experience and fan experience. We are all in the people business. Successful businesses have employees that are invested in their brand and deliver exceptional customer service."
There is still time to attend a game before the end of the season. The ValleyCats are taking on the Vermont Lake Monsters on August 31, September 1 and 2. There will be post-game fireworks on Saturday, August 31 and on Monday, September 2, enjoy pregame live music from the band Hair of the Dog.