News
February 16, 2023
Member Spotlight: The Epilepsy Foundation of Northeastern New York, Inc. (EFNENY)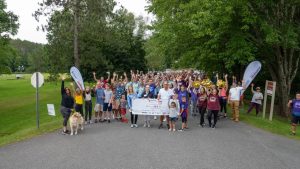 The Epilepsy Foundation of Northeastern New York, Inc. (EFNENY) was founded by a mother of a child with epilepsy.  Her goal was to provide support for other families affected by epilepsy and learn as much as she could about the disorder to help her own family.  Epilepsy is defined as having two or more recurring unprovoked seizures.  It can happen to anyone, at any age, at any time.  One in 26 individuals will be diagnosed with epilepsy.
The organization incorporated in 1981 as the "Epilepsy Association of the Capital District."  Offices were established in Albany.  The territory served included 9 counties in the Capital Region.  In 1997, the organization changed the name to the Epilepsy Foundation of Northeastern New York, Inc.  In 2005, the organization expanded its territory and now serves 22 counties in New York including Albany, Clinton, Columbia, Dutchess, Essex, Franklin, Fulton, Hamilton, Herkimer, Greene, Jefferson, Lewis, Montgomery, Rensselaer, St. Lawrence, Saratoga, Schenectady, Schoharie, Sullivan, Ulster, Warren, and Washington.  It is estimated that 45,000 people are affected by epilepsy in our service territory.
The Epilepsy Foundation of NENY is an independent affiliate of the national Epilepsy Foundation.
EFNENY is the only resource in northeastern New York that offers programs and services for individuals, family members, and businesses affected by epilepsy, free of charge.  Such services include information and referral, counseling, support groups, advocacy, service coordination, and seizure education and first aid training.  EFNENY is the only resource to raise awareness of epilepsy and provide seizure education and first aid training to schools, first responders, businesses, and the community at large.  Their Health Educator is available to provide education and first aid training online or in-person.  You may also register for their Webinar Wednesday on the first Wednesday of each month over Zoom to receive this training.  Visit their Facebook page (Facebook.com/efneny) to register.
"EFNENY is a proud member of the Chamber, taking part in the many programs they offer.  The Chamber provides an opportunity for us to raise awareness of our agency and the services we provide through their networking events and publications.  The regular e-newsletters also keeps us informed of new businesses, trends, and opportunities available to help our organization grow.  We were fortunate to have been the WBC Adopted Non-Profit in 2019 which not only enabled us to educate, raise awareness, and share stories of women living with epilepsy in our community, but the WBC also raised money to support our programs and services through raffles, silent and live auctions, and text to donate!"
"The Capital Region is a very giving community, and we are fortunate to have the people and businesses of the Capital Region participate and/or donate to our events!   A portion of our budget comes from special events as the proceeds support our programs and services which are provided at no charge. Because of the generosity of our community, we can help those affected by epilepsy and the challenges they may face."
Special events are held throughout the year which include the Confections in Chocolate Gala for Hope at Glen Sanders Mansion (March 11, 2023), the Walk to END EPILEPSY (September), and our Golf Tournament for Epilepsy at Wolferts Roost Country Club (October 2, 2023).
Many people feel alone when dealing with a diagnosis of epilepsy.  There are many trials to find the right medications or methods to control seizures which is different for everyone, and sometimes there is no seizure control.  EFNENY is here to provide support and information while on this epilepsy journey.  A parent once shared, "When our daughter was diagnosed with epilepsy at six months old, thankfully we didn't go through it alone.  The Epilepsy Foundation of Northeastern New York provided assistance, compassion, and comfort every step of the way."