News
May 24, 2023
Member Spotlight: TechBridge Group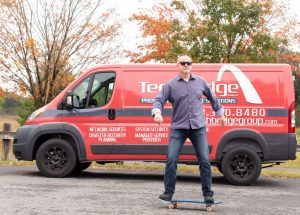 TechBridge Group was founded May 4, 1993 and proudly celebrates 30 years in business!
The original name of the company was "Fiber Network". When CEO, Walter Guiles, first started out, he was also still running a second business installing carpeting and flooring, and he needed a name that could represent both companies. Fibers are in both computer science and carpeting, so that's why the name was chosen.
"One thing our business is known for is anybody can say that they are customer service driven, but I know that our team goes well above and beyond to make sure that our clients have the service that we expect them to have. It's not uncommon for us to go outside of our scope to help clients. Our clients will tell you that we are very responsive. We are available in all capacities, including training and explanation of the current situation. There aren't many things I won't do to help a client," said Walter Guiles, CEO.
"I personally find the Chamber social events are the most beneficial for me, one of my favorites is the annual Holiday Reception. I like to just go and meet and talk to people. It doesn't have to be about business, it can just be about life – that's good stuff," said Walter Guiles, CEO.
"We are lucky to live in our area. The seasons are great when they come, and some are great when they go. My favorite part is probably heading North on my way to Lake George. That is a wonderful place to exist and recharge," said Walter.
Walter explains one of the nicest things a client has said – The CEO of a large company that we provide services for once said to me, "It doesn't matter how bad a situation seems, I feel it is going to be okay once I see you walk through the door." That's quite a testimonial!