News
May 9, 2019
Member Spotlight: Mountain Ridge Adventure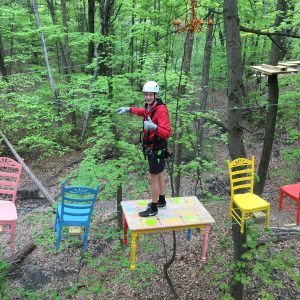 What better way to celebrate the warm weather than getting outside and experiencing Mountain Ridge Adventure? Read more about the business in this week's member spotlight.
Located in Schenectady County, Mountain Ridge Adventure was established in 2016. They're the only adventure park in upstate NY with both a high ropes course and a separate zip line park- giving guests a choice of adventure! While some adventure parks only offer cookie cutter obstacles, Mountain Ridge Adventure has totally unique and custom obstacles, like a grand piano 50' in the air as part of a full rock concert element, including guitars and a drum set and a fully set dining room table hanging in the trees.
What makes Mountain Ridge Adventure stand out? Says General Manager Michael Cellini, "Customer service and creativity. We have had guests who have stated that they have done adventure courses all over the world and have told us we are the best they've ever been to." In addition to the seven courses, there are ten zip lines and a 1-mile traditional team-building course for corporate and youth outings. There are stations where groups work with a facilitator on management skills, camaraderie-building, creativity expansion or any number of chosen goals. They also have an aquatic center for younger kids where they can handle fish, frogs, crayfish, tadpoles and more.
Cellini says that he really enjoys living and working in the Capital Region because in a few hours he can visit the Statue of Liberty, climb a high peak in the Adirondacks, jump in the ocean at the Jersey shore, see a great concert at SPAC or the TU, or try his luck at Rivers Casino. He also says that he appreciates the Chamber's advice and support when he was first getting the park installed and the resources provided when looking for guidance.
When asked about the nicest thing a customer has ever said to him about Mountain Ridge Adventure, Cellini responded with, "This is the most fun I've ever had in my whole life."