News
October 26, 2023
Member Spotlight: Goodbee Controls & Electrical Contracting, Inc.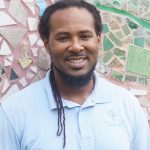 Goodbee Controls & Electrical Contracting, Inc., founded by Andre Goodbee in January 2020, is an electrical contracting company based in Albany, New York serving the Capital District and beyond. They are proficient in all facets of electrical contract work including but not limited to switchgear installations, troubleshooting, installations, and electrical demo. They have built their clientele through engaging in residential & commercial contracts and completing them in a timely manner.
Andre' R. Goodbee has been studying & practicing electricity since 1995. Andre earned a certificate of completion at the Abookin Vocational Center ('97), graduated from Hudson Valley Community College ('99) A.O.S, and 4 years at the NYS Assembly working with the Telecommunications department of O.A.D.P. In 2014, through the NYS Department of Labor, Andre was recognized as a certified Electrical Journeyman, after completing a 5-year apprenticeship from the Tri-city JATC, overseen by the International Brotherhood of Electrical Workers. In 2019, Mr. Goodbee received his Master Electrician License from the City of Troy.
Goodbee Controls & Electrical Contracting, Inc. is ready to provide professional service to developers, and construction companies. In Albany, Goodbee is synonymous with hard work, community advocate, family-orientated, and a strong commitment to making our communities better. They will work diligently with all their clients as they have the pulse of the community and can help with advocating for your project to meet the needs of the community.
An interesting fun fact about their business most people don't know… most people that have thought they have been electrocuted before, in fact, in all actuality this is incorrect because if you were electrocuted you wouldn't be here to discuss it. The proper word is "shocked".
Goodbee Controls & Electrical Contracting, Inc. is known for their outstanding customer service. They show compassion when dealing with the client's homes and/or businesses, they make them feel at ease with our understanding of electricity, and getting it completed within the timeframe.
As a member doing business in the Capital Region, we have utilized the Capital Region Chamber's entrepreneurial bootcamp, attended networking events, and received guidance from the BIPOC section of the Chamber.
Andre' R. Goodbee's favorite part about living/working in the Capital Region is the connections, the opportunity, the direction where the state is trending to, which is clean energy, and getting rid of gas appliances in homes.
The nicest thing a customer/client has ever said to you about our service was, "Thank you for being flexible!" said Andre'.