News
January 21, 2021
Member Spotlight: DeCrescente Distributing Company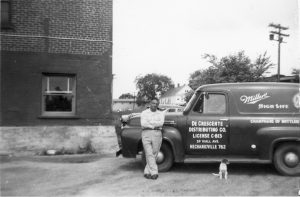 DeCrescente Distributing Company all began over 70 years ago, in 1948, with one man's vision. That was the year Angelo DeCrescente, from Mechanicville, NY, started his beverage distributing business-operating it from his home with only a few brands and one truck for deliveries.
DeCrescente is well known in the Capital Region, and many people probably also know that the company is family-owned. What many people might not be aware of is the national level acclaim the company has received over the decades- for innovation, growth, and sales performance.  Some of the largest distributors in the world have bestowed accolades on Mechanicville's own DeCrescente Distributing Company. You may also not know that while they began as a beer distributor, their products range from beer and cider, to wine and spirits, soft drinks and even chips and jerky.
Did you know that DeCrescente Distributing Company has their very own pub onsite named 39 Viall Avenue? The significance of the name is the address where the business first began, which was where founder, Angelo DeCrescente's house was located in Mechanicville. 39 Viall Avenue is a place where employees gather for all sorts of meetings, trainings, seminars and more. Most importantly, it's a place where they host many employee socials and gatherings and where they come together and spend time with fellow employees. *
Customer service and the way they go to market is one of the hallmarks of DeCrescente. Employees are trained up front and on an ongoing basis about the way they are expected to go to market. They're clear about the company's expectations, and they execute against them.
What is the team's favorite part about living and working in the Capital Region? Says Carmine DeCrescente III, "We work hard to stay true to our roots as a family-owned business. That has multiple meanings, of course, and part of it for us involves being a good citizen of our own hometown and community. The Capital Region has so much to offer- things to do, places to see- from the Saratoga Racetrack in the summer to all of the amazing music festivals held throughout the territory we distribute in, we love that we can bring our brands and our people out to be a part of it."
How has DeCrescente tapped into the Chamber as a resource? Most notably, two key employees have gone through Leadership Tech Valley over the past few years. They've also taken advantage of professional development opportunities and Carmine DeCrescente III serves on The Chamber of Southern Saratoga affiliate board.
DeCrescente III goes on to say that some of the nicest things they have heard from customers over the years are in reference to how well they treat their employees and how involved they are in the community. "One of the nicest things, however, has come from many of our own employees- we survey them and ask how they would describe our culture, and they often respond 'family.'  What could be better than that?"
*Pre-COVID