News
April 1, 2021
Member Spotlight: Capital Region Veterans Memorial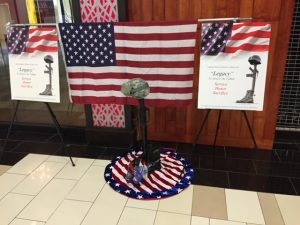 The Capital Region Veterans Memorial is on a mission to create a respite where all Veterans, their families, and ordinary citizens could experience a place of welcome, camaraderie, remembrance and even vindication. Known as The Legacy Project, the aim is to have this memorial in a town park in Glenville. Organizers Mary Brandt and Larry Zeglen chose this location due to its military rich environment, a strong history of military support and active-duty personnel.
Brandt and Zeglen, both Veterans, say they have received overwhelming support from Glenville Town officials throughout their journey. As they move forward with the project, they decided to join the Capital Region Chamber to help bring awareness to the memorial.
The ultimate goal is to have a Veteran's Café that would welcome those who have served or are currently serving and memorials for all seven major conflicts, with the names of area heroes who made the ultimate sacrifice engraved in granite. If acceptable and approved, the location would also have a military museum, a pond and a pavilion.
To learn more, visit the Capital Region Veterans Memorial website or check out their video on YouTube.