News
April 25, 2019
Member Spotlight: Ballsfest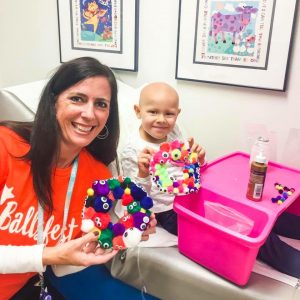 BALLSFEST is a registered non-profit organization that lifts the spirits of children, young adults, and their families affected by cancer. Organizers and supporters of BALLSFEST provide unforgettable experiences and year-round support for those facing obstacles with the disease. The term, "BALLSFEST", was created by Frank DeBlasi, a testicular cancer survivor and keen supporter of children living with cancer. Following his own battle in 2007, Frank began hosting a celebration each year in Saratoga. In 2013, Frank shifted his focus with the proceeds from his annual event, and started to identify children in the local area affected by cancer. Since then, BALLSFEST has honored and celebrated a number of these children in the upstate New York region and looks forward to deepening its impact further.
BALLSFEST conducts a signature annual fundraising event, and solicits grants and contributions year-round from individuals, private foundations and others, for the purpose of supporting young children who are facing difficult challenges.  Children, also known as Ballers, are recognized at this event and presented with a customized gift or experience to lift their spirit and surround them with a strong community of love, care, and support.  We are unique in our building of long-term relationships and ongoing support with Ballers and their families that will remain intact well after receipt of their gift and completion of their treatment.  We recognize that there are long-term implications from a cancer diagnosis and it is our desire to create a community of support among our growing Baller family to address those issues and continue the healing process as long as needs exist.
BALLFEST New York announced their first ever hire in June 2018. Angie Silipigno joined BALLSFEST NY as the Executive Director, responsible for overseeing all patient experiences and programming in the Capital Region. As the Executive Director of BALLSFEST NY, Angie acts as an ambassador for the organization to raise awareness, seek financial support for programming, and deepens relationships with other community groups sharing the same passion for childhood cancer support. Her primary focus is growing BALLSFEST from their annual signature event to establishing a year-round presence.
BALLSFEST is growing at a rapid pace and continues to broaden its impact by expanding into other states across the country. In 2018, BALLSFEST hosted Baller events in Las Vegas, Nevada and Scottsdale, Arizona and plans to add Alabama, Indiana, and New Jersey in 2019. BALLSFEST is eager to establish community relationships with local businesses who are interested in becoming sponsors, champions, and advocates for our mission to lift the spirits of children, young adults, and their families impacted by a cancer diagnosis.