News
February 13, 2019
Member Spotlight: A Modern Muse Photography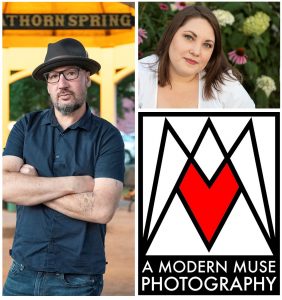 A Modern Muse Photography is a collaboration between David Pramaggiore and Laura Pinckney. David and Laura met in 2004 at The Sage College of Albany. Laura would graduate with a B.F.A. in Photography and David a B.F.A in Graphic Design. With a love of Photography, Art and Design in common, the two stayed in touch over the years. After graduating, the two worked in different areas and on different coasts of the country. After years of yearning for something more and with an ever-present interest in the arts, they decided to take a bold step. In the beginning of 2018 they decided to take their passion a step further and formed a partnership resulting in the creation of A Modern Muse Photography.
Always looking for a new viewpoint, an edgy composition, or classic and elegant lighting, David and Laura combine their skills behind the lens and computer to create truly unique and inspiring photographs. A Modern Muse Photography specializes in wedding photography throughout the Capital Region and beyond. They are also involved in commercial photography and portraiture and have been chosen to be the official photographers of the Saratoga Tour de Cure.
Ever striving to evolve and grow their business, they are working on construction of a new studio space in Scotia. What was once a free-standing garage is being transformed into a modern and inviting studio space where clients can come and have family portraits taken or enjoy a cappuccino as they discuss plans for their big wedding.