News
October 8, 2020
Luizzi Companies Break Ground on the New Lincoln Avenue Industrial Complex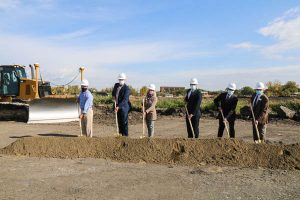 The Chamber was happy to participate in the Luizzi Companies Ground breaking ceremony that was held on Wednesday, October 7th.
Luizzi Companies is a family-owned and operated entity headquartered in Albany, NY that encompasses three unique divisions of expertise that can be detailed as Construction, Development and Property Management. The natural progression of growth is due solely to the drive and initiative of the President, Peter Luizzi Jr. Under his direction, these companies have all experienced incredible successes. It is his vision that leads us and guides us towards the future.
With a pattern of steady growth, it has become apparent that there was a need to development a centralized office and warehouse location for the over 150 people now employed by Luizzi Companies. A physical incorporation of all three of Luizzi Companies under one roof, Peter Luizzi & Bros Contracting; Luizzi Property management & Luizzi Construction Service that will become Luizzi Companies Headquarters. The project has been two years in the making and is anticipated to go on for many years for full build-out of the 80-acre site located in Colonie known as Lincoln Avenue Industrial Complex. In all, the property within the brownfield opportunity area is proposed to house 16 warehouse and office structures.
In addition to the jobs that Luizzi Companies already creates to run its daily operations, we look at this expansion as an opportunity to bring business back to this Colonie/Watervliet area that has previously seen the abandonment of large industries. It is our great pleasure to be calling the Lincoln Avenue Industrial Complex the home of our new headquarters. We look forward to continued relations with many of the local businesses and neighbors as well as the new opportunities that will arise as this long-term project pushes forward.