News
September 21, 2018
Leadership Tech Valley Class of 2019 Announced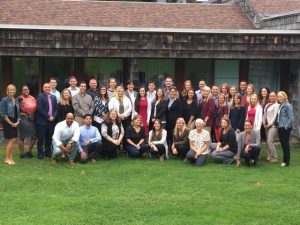 The Capital Region Chamber is pleased to announce its Leadership Tech Valley Class for 2019. Thirty-nine area professionals have been selected to participate in the program, which unites individuals from diverse fields and backgrounds to learn more about themselves as leaders and ways to better serve their organizations and community.
Leadership Tech Valley is held from September through June and consists of ten monthly sessions, including an opening and closing retreat and graduation ceremony. Each session is designed to increase awareness of issues facing our region, citizens and the local economy. Areas of focus for 2019 include economic development, community service/nonprofit, diversity, education, workforce development, government, community health, and arts and culture.
In addition to the session days, individuals are required to complete 16 hours of experiential credits, visiting businesses and organizations related to the areas of focus. Below is a list of the Class of 2019:
Crystal Alesio, Community Miracles in Action, Inc
Challen Banach, SI Group
Lauren Benz, MVP Health Care
Jennifer Cassidy, American Red Cross Eastern NY Region
Daniel Centi, First National Bank of Scotia
Sarah Clark, Albany Public Library
Tess Cleary, Northern Rivers Family of Services
Patricia Cooper, Capital District Transportation Authority
Kevin Cordella, Bank of America
Donna Cramer-Sharer, Colonie Youth Center
Dagna Cruz, Center for Disability Services
Matthew DeCrescente, DeCrescente Distributing Company
Kelly Dombrownski, Schenectady ARC
Shannon Forkin, Dannible & McKee, LLP
Sandra Goldmeer, Susan G. Komen Upstate NY
William Hanrahan, 109th Airlift Wing, Stratton Air National Guard Base
Kevin Healy, M&T Bank
Sasha Herzig, KeyBank
Jahkeen Hoke, 4th Family Inc.
Bridget Kennedy, Wildwood Programs
Tyler Kuznia, Rose & Kiernan, Inc.
Brittany Lawton, Tangible Development LLC
Michelle Martin, Latham Pool Products
Tamara Marziani, CDPHP Inc.
Carole Meyer, Hudson Valley Community College, Educational Opportunity Center
Vincent Miles, KeyBank
Deneen Palmateer, Living Resources
Whitney Pangburn, Marshall & Sterling Insurance, Upstate
Kelly Person, 109th Airlift Wing, Stratton Air National Guard Base
Ravi Ramdath, The Community Preservation Corporation
Blair Raymond, Union College
Maria Sgroi, MVP Health Care
Vincent Speenburgh, CDPHP, Inc.
Katie Stott, BST & Co. CPAs, LLP
Samuel Trimboli, The Golub Corporation/Price Chopper Supermarkets
Ariel White, Schenectady Community Ministries (SCIM)
Anna Wilkinson, Northern Rivers Family of Services
Judith Wines, RCS Community Library
Christina Wozniak, Carrow Real Estate Services
For additional information, please visit www.leadershiptechvalley.org or contact Brandi Landy, Director of Talent Development, at 518.431.1414 or blandy@capitalregionchamber.com.