News
September 15, 2023
KeyBank to Open New, Full-Service, State-of-the-Art Branch in Schenectady, NY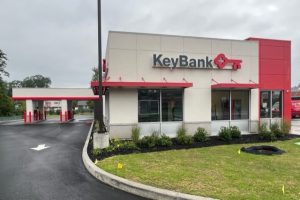 KeyBank will open a new, full-service, state-of-the-art branch in Schenectady, NY. The new Altamont Avenue branch, located at 1703 Altamont Avenue, will open at 9:00 a.m. on Monday October 2, 2023, with a grand opening and ribbon cutting on Friday October 6, 2023 at Noon.
"This new branch is yet another way KeyBank is investing in the Capital Region. We look forward to meeting and working more closely with our new neighbors, clients and community partners," said Fran O'Rourke, KeyBank Capital Region Market President. "We are excited about the opportunity this new branch provides for us to deepen the strong relationships we have in the Capital Region."
In addition to high-touch banking services, this new state-of-the-art branch will offer full-service banking capabilities, feature digital video screens and a client hospitality area that can double as an area for financial seminars and group presentations with clients and the public, as well as a drive-up teller line, ATM and free parking. Longtime banker Kevin Eberz will serve as branch manager at the new location.
"KeyBank's new Altamont Avenue branch is uniquely designed to give our clients a more personal banking experience, with even better access to a full suite of products and services," said Eberz. "We are excited to bring this more consultative approach to Schenectady and demonstrate our commitment to helping our clients move forward on their financial journey."
In addition to helping individuals and families achieve their financial goals, the new Altamont Avenue branch will also serve clients seeking to develop and grow businesses in the area.
As part of the opening of this new branch, KeyBank is consolidating its branches located at 3083 Carman Road in Rotterdam and 1708 Broadway in Schenectady into the new location on Altamont Avenue. Those locations will close at 3:00 p.m. on Friday September 29, 2023.
Since 2017, KeyBank has made more than $1.14 billion in investments in the Capital Region, supporting affordable housing and community development projects; small business and home lending to low-to-moderate income individuals and communities, and transformative philanthropy.