News
January 18, 2023
Hive of Hope Ribbon Cutting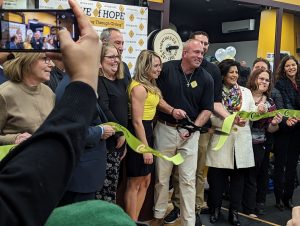 Hive of Hope (161 Central Avenue, Albany, (518) 650-8951, hivealbany.org) held a grand opening ceremony on January 10, officiated by Capital Region Chamber President & CEO Mark Eagan, that was an amazing success!  Hive of Hope is a safe haven for those committed to living their best life in sobriety, and the place to go for sober entertainment in the Capital Region.
The organization expressed gratitude for the volunteers, people in recovery and recovery allies, brother and sister programs, community partners, lawmakers, and of course family and friends that made the opening possible and successful. Dignitaries in attendance included Mark Engel, Central Avenue Business Improvement District – CABID, Albany County Comptroller Susan Rizzo,  Assemblymember Patricia A. Fahy, Assemblymember John McDonald, Albany County District Attorney David Soares, Albany Chief City Auditor Dorcey Applyrs, Judge Debra Young, NYS OASAS, Healthy Capital District, Life.Church Albany, Northeastern Community Action Partnership, Peter Gannon and United Way of the Greater Capital Region, Ben Williams from Connect Center for Youth, John Eberle from Community Foundation for the Greater Capital Region, Kathy Lanni from SEFCU/Broadview among so many others. Other treatment and recovery programs came and showed their support: New Choices Recovery Center, Capital District Recovery Center – CDRC, The Addictions Care Center of Albany, American Addiction Centers, Healing Springs Recovery Community & Outreach Center, Seabrook Rehab and White Deer Run.
Hive of Hope started as an idea, and has transformed into a mission, an expression of love, and a resource for those who seek a fulfilled life in sobriety, as well as those who wish to give back and help others in living their best sober lives. This is only the beginning and they look forward to a great 2023 and beyond!
All ribbon cuttings of the Capital Region Chamber and its affiliates are sponsored by the Saratoga National Bank & Trust Company.