News
September 17, 2019
Graham's Coffee Parlor Cuts Ribbon in Niskayuna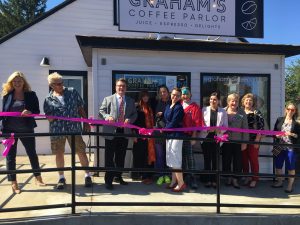 On Tuesday, September 17 Graham's Coffee Parlor officially opened its doors in the Town of Niskayuna. The Chamber, its Ambassadors, family, friends, and patrons all took part in the ceremony.
Graham's Coffee Parlor is a new, woman-owned business in the Niskayuna/Woodlawn area of the Capital District specializing in specialty coffee, fresh juice, smoothies, pastries and other delights. The positive response from the community and surrounding neighborhoods has been tremendous.
Graham's serves specialty coffee roasted in North Carolina from Hex Coffee Roasters. Pastries are baked at Brimstone Bakery from Sharon Springs, NY. The menu is extensive, offering a wide variety of coffee, tea, fresh juices, smoothies and certainly becoming a mocktail destination.
Graham's Coffee Parlor is located at 3406 State Street in Niskayuna, near Mohawk Commons and the Schenectady/Niskayuna/Woodlawn border. This property has been in Katryn's family (the Graham's) since the early 1970's. Arguably, she didn't choose this location – it chose her. Katryn, her Uncle Richie, sister Mikael and many friends and family members put in the dirty work to demolish the space and rebuild it. This neighborhood is saturated with car dealerships and chain food and beverage establishments. It is more than ready for a locally-owned business to add some character. People walk through the doors and exclaim "FINALLY!" multiple times a day to express their gratitude for this addition to the community.
As thoughtful as the menu is, it's really about the entire experience. It's a welcoming environment. It's about being uplifted. It's about having fun. It's about have genuine human connections. It's about all of this, through coffee. Malen plans on hosting an array of get togethers at the parlor so keep your eyes open for them. Dinner and a movie night, latte art competitions, craft parties, tiki mocktails, anything! We can try to imagine what Graham's will be in the future, but as Malen stated "Graham's built itself. There was a point in the process where every decision I made wasn't mine, it was Graham's – and I let it take the wheel."