News
September 4, 2019
Five Guys Opens in Glenville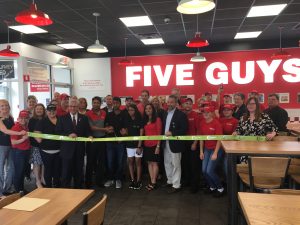 The Capital Region Chamber along with its Ambassadors, local elected officials, employees, supporters, friends, family and burger connoisseurs held a ribbon cutting for Five Guys Famous Burgers and Fries on Wednesday, September 4, 2019 at 262 Saratoga Road, Glenville.
Owners Savita and Tejraj "TJ" Hada opened their first Five Guys location in July 2005 in Niskayuna, NY and also own locations in the Central New York region. Glenville is their 21st location located in Hannaford Plaza and they are very excited to be part of Scotia-Glenville community! The new restaurant has created 45 new part-time and full-time jobs.
Five Guys has been a Washington, DC area favorite since 1986 when Jerry and Janie Murrell offered sage advice to the four young Murrell brothers: "Start a business or go to college." The business route won, and the Murrell family opened a carry-out burger joint in Arlington, Virginia.
Under the guidance of Jerry and Janie, the Murrell family served only hand-formed burgers cooked to perfection on a grill along with fresh-cut fries cooked in pure peanut oil. Now, 30 years after Five Guys first opened, there are almost 1,600 locations worldwide and another 1,500 units in development.