News
September 24, 2021
DeMarco Family Celebrates 100 Years in the Funeral Business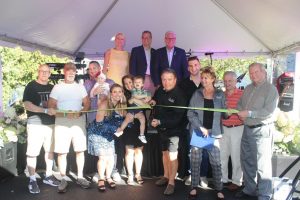 This year, the DeMarco family celebrates 100 years in the funeral business and 35 years at their current establishment, Glenville Funeral Home, that has grown and expanded with the town it resides in, Glenville.
To celebrate this milestone, Glenville Funeral Home put on a free concert for their community, which also included a food truck and beverage cart selling local beers and wine. This free family event included kid entertainment and an impressive display of raffle items from more than 65 local businesses. Glenville Funeral Home raised $2,250 for the Capital Region Veterans Memorial Park, also known as the Legacy Project.
In their fourth generation of compassionate funeral care, Glenville Funeral Home continues their family legacy in treating every family like their own.
All ribbon cuttings are sponsored by Saratoga National Bank and Trust Company.