News
November 13, 2019
Crisafulli Bros. Announces Winner of Crisafulli Cares Promotion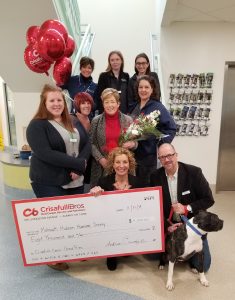 Crisafulli Bros. Plumbing & Heating Contractors, Inc., a NYS certified WBE, based in Albany, is celebrating its 80th year in business.  To commemorate this anniversary, the organization decided to recognize their achievement by giving back to the community who has been so supportive all these years.
"Our goal was three pronged," stated Andrea Crisafulli, President of Crisafulli Bros. "We wanted to include our amazing team, customers and the community in the celebration. With that in mind, we launched the Crisafulli Cares campaign."
In June, the Crisafulli team of over 160 strong was asked to nominate a local non-profit for the chance to receive $1,000. Each nomination included the team member's personal stories about how these different organizations were important to them and why they deserved the attention. The entire team then voted to narrow the list down to eight finalists.  Over the course of two months, Crisafulli Bros. presented each with a check for $1,000 and featured each non-profit on social media to heighten awareness of their great works.
On October 21st, Crisafulli Bros. opened the voting to the community at large and through November 8th, over 13,000 votes were received through CrisafulliCares.com! While all eight organizations were incredibly well-deserving, one stood out as the clear winner.  We are pleased to announce that Mohawk Hudson Humane Society is the $8,000 Grand Prize winner!
"We have been overwhelmed by the participation of our community and each of the eight organizations.  This has been a truly heartwarming way to celebrate a special anniversary", concluded Andrea Crisafulli.
Founded in 1939, Crisafulli Bros. is family owned and operated business spanning three generations with annual revenues in excess of $30 million dollars. The company is one of the largest mechanical contractors in the Capital Region, employing over 160 local team members.   Crisafulli Bros. has earned the Top Workplace recognition since 2018 and has been voted Best Plumbing Company in the Albany Times Union Readers Poll each year since 2007.