News
November 15, 2018
Capital District Recovery Center Opens its Doors on Colvin Avenue in Albany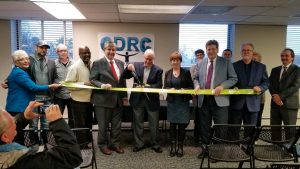 The Chamber, its Ambassadors, many local delegates, family and friends were all on hand for the grand opening of the Capital District Recovery Center in Albany on Wednesday, November 14th.
CDRC is a safe and accessible place for people seeking recovery from addictions, hosting 12 step meetings, supports and programs for self-improvement. "As a member of long term recovery who has not had a drink or drug for over 29 years, this is my way of giving back to the community that has helped change my life," said Barry Levine, president. "After searching for more than three years for a home for CDRC, I am very excited to see my vision become a reality."
"In the midst of an opioid epidemic, the opening of CDRC is extremely timely," Levine said. More than 2,500 people have already attended meetings, groups and other workshops offered at CDRC.
CDRC was founded in 2015 as a not-for-profit 501(c)(3) corporation with an all volunteer board and staff dedicated to helping improve the lives of people in recovery. Centrally located and handicap accessible at 45 Colvin Ave., CDRC offers 2,464 square feet of meeting rooms of various sizes. CDRC currently hosts 24 weekly recovery meetings, workshops and events with additional applications pending.