News
March 8, 2019
Beekman 1802 Moves Company Headquarters to Mohawk Harbor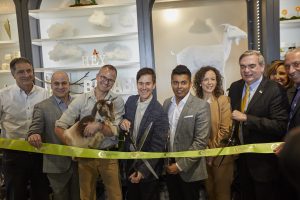 The Chamber had the pleasure of participating in the grand opening and ribbon cutting of the new Beekman 1802 headquarters at 200 Harborside Drive, 4th floor in Schenectady on Thursday, March 7th. The two founders, Josh Kilmer-Purcell and Brent Ridge, their team, as well as the Mayor of Schenectady, Gary R. McCarthy, and other elected officials, community members, friends, and family were joined by two special guests – baby goats – to celebrate the opening of the gorgeous new space.
Beekman 1802 is a line of goat milk products founded by the Beekman Boys in Upstate New York. As one of the fastest growing living brands in America, Beekman 1802 Farm and Mercantile in Sharon Springs, New York allows for the Beekman Boys to produce farm-to-table foods, farm-to-skin beauty and artisan-made home products.
All their products focus on natural ingredients inspired by their farm.
For information on Beekman 1802, please visit www.beekman1802.com.