News
August 16, 2023
Bank Appoints Zarrelli to Business Banking Relationship Manager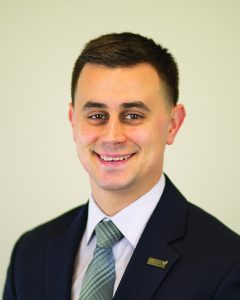 Saratoga National Bank and Trust Company is pleased to announce the appointment of Nick Zarrelli to Assistant Vice President, Business Banking Relationship Manager.
In his new role, Mr. Zarrelli will be responsible for maintaining, growing and servicing the company's small business loan portfolio and growing relationships with longtime customers. He joined the bank in 2016 and will continue to work closely with branch staff and business partners to offer commercial banking and lending products and services to enhance the customer experience.
The Guilderland, N.Y. native attended SUNY Oneonta where he received his bachelor's degree. He later earned a master's degree from The College of Saint Rose.
Mr. Zarrelli currently lives in Loudonville, N.Y. and is active in the community. He serves as Vice President of the board of directors for the Epilepsy Foundation Northeastern New York and is a board member of South Colonie Girls Softball. He is also a Capital Region Chamber Ambassador and serves on the Next Generation Leadership Council for the Eastern Contractors Association.