News
March 22, 2023
Ballston Spa National Bank Announces SUMMIT Employee of the Year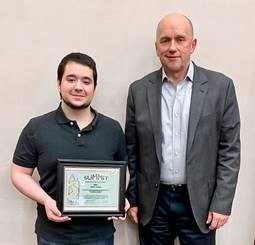 Ballston Spa National Bank (BSNB) announced that Bret Hasel has received the bank's 2022 SUMMIT Employee of the Year award. BSNB President and CEO Christopher R. Dowd, along with Jaime Griffen, BSNB's customer service committee chair, recently recognized Hasel for his exceptional dedication to customer service and the bank's core values of teamwork, respect, accountability, integrity and leadership.
"Excelling in customer service is one of the key ways BSNB differentiates ourselves in the market. Bret is a shining example of someone who is willing to push up his sleeves and put in the necessary work to find solutions that benefit our customers", said Dowd. "Bret's customer service skills go above and beyond our already high standards and this recognition is very well deserved."
The following quarterly Summit Award winners were also recognized for their contributions and commitment to the bank's customer service objectives: James Formosa, Jared Dean, and Bonnie Demers.