News
May 26, 2021
ADNET Technologies Unveils New State-of-the-Art Office Space in Albany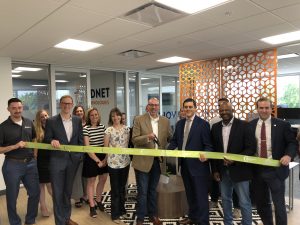 ADNET Technologies, a managed IT services, cloud and cybersecurity provider, launched their new collaborative office space at 3 Winners Circle in Albany on Wednesday, May 26th.  The Chamber was joined by local elected officials, Chamber Ambassadors and many project collaborators.
The firm's investment in its new office follows its decision to permanently remain in a cloud-based, work-from-anywhere environment, providing its team with the flexibility to operate wherever they're most productive. Designed to facilitate collaboration, the workplace serves a gathering space for its employees to connect and develop solutions for clients.
Unlike a traditional office that provides separate, siloed spaces, ADNET's new workplace has no private offices. Instead, the workstations and meeting spaces are shared by everyone. The modern office design aims to build community and harness the power of spontaneous face-to-face interaction to drive innovation.
"This new office is an investment in our team. It's not about a physical space, it's about building a culture that technologists want to be a part of," said Christopher Luise, Co-CEO of ADNET Technologies. "At ADNET, we want our employees and our clients to feel that they belong, they're a part of something and they can be their authentic selves – because that authenticity helps build relationships that become friendships and trusted partnerships. In our new office, we'll provide the comfortable spaces, infrastructure and really good coffee – but we'll rely on our team to bring the brainpower and people-first attitude to make it work."
ADNET partnered with Rosenblum Development, which manages 3 Winners Circle, to achieve its vision for the reimagined office. The firm's 2,000-square foot, third-floor space features two meeting rooms and collaboration spaces as well as a designated wellness space and kitchen area. In addition to office infrastructure such as printers, presentation screens and whiteboards, it has the commercial-grade high-speed internet access that its employees need to be productive.
"This collaborative workplace, combined with our work-from-anywhere capabilities, will provide a unique experience for our team and drive value for our clients," said Ronald Gibson, Albany General Manager for ADNET Technologies. "While it refines our approach to the Capital Region market, it gets back to who we are as a company. We put people first and we work to make sure their needs are met, whether they're our colleagues, our clients or our neighbors."
ADNET employs 60 people across its company, and it is actively recruiting more IT professionals to join its Capital Region team. In addition to the flexible work-from-anywhere environment, it offers progressive benefits packages, including a 100% covered healthcare option and a Responsible Time Off (RTO) policy that doesn't limit the amount of time any employee can take off.
Ahead of its 30th anniversary later this year, ADNET is reinvesting in the firm and planning for the future. It recently debuted a new visual identity that represents its evolution as a company and a brand. As ADNET looks to continue its expansion following an impactful 2020, it intends to use its Albany office as a template for offices in other markets.
All ribbon cuttings are sponsored by Saratoga National Bank and  Trust Company.