News
June 8, 2022
Leadership Tech Valley Unveils New Community Garden and Recreation Project at LaSalle School in Albany
On Friday, June 3, representatives from the Capital Region Chamber, Leadership Tech Valley (LTV) Class of 2022, and LaSalle School in Albany held a ribbon cutting ceremony to reveal the Community Garden and Recreation Project completed by the LTV class as part of its nine-month program.
Each year, LTV selects a community project with the intent of leaving a lasting mark on the community. This year's class solicited proposals for projects in the area(s) of children and youth, as well as poverty and/or homelessness. Over a dozen local community organizations submitted proposals as part of the RFP process. LTV 2022 chose to partner with LaSalle School in Albany to renovate and expand a multi-functional outdoor space, including raised garden beds, a new shed for storage, picnic tables and a planned pavilion structure for the school.
The raised garden beds were installed to plant fruits and vegetables to facilitate innovative educational opportunities and serve as a de-escalation method for students. Students will also learn how to cook healthier meals, which not only helps LaSalle's 30 residential students but the hundreds of youths after graduation who transition into the school's group living facility as they continue their education or begin a trade. The garden beds are also a way to explore job coaching opportunities and employment on local farms. Surplus food from the garden will support LaSalle students and families in need through the school's pantry program utilized throughout the year.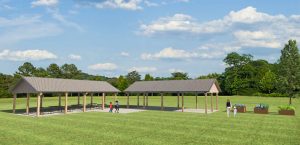 Accompanying the beds will be a shed for storage and a pavilion for students, families, and staff to gather outdoors for education, therapeutic, and celebratory activities.
"LaSalle is so very appreciative of the LTV Class of 2022," said David Wallace, LCSW-R, Executive Director of LaSalle School. "COVID has forced us all to reinvent how we teach, work and gather together these last two years. This new pavilion and garden will help us to sustain many of the outdoor and innovative approaches we have adopted to engage our students in hands-on learning and promote healthy living skills. We're so excited!"
LTV, in partnership with LaSalle, has helped bring classroom learning to life to set students on a positive trajectory and create a space with sustainability in mind to serve for years to come.
"Our LTV class was drawn to this partnership because of its potential to enhance these students' lives in a very real way, now and into the future," said Alexis Musto, Senior Vice President of Marketing, Communications, and Strategy for Community Care Physicians, on behalf of the class. "This is a dynamic program that makes learning accessible to all the kids, regardless of backgrounds and proficiencies. You may not remember all the words you read on a page in a classroom, but you'll certainly remember lessons learned from a rewarding, hands-on experience. We enjoyed partnering with LaSalle to help cultivate an environment that inspires healthier eating, stimulates curiosity, encourages collaboration, and transforms the way these students care for themselves and the world around them."
Founded in 1854, LaSalle was established as a multi-faceted human services agency serving abandoned and orphaned boys. LaSalle has continued its commitment by providing therapeutic residential treatment, day education, outpatient counseling and an alternative to detention for youth and families experiencing trauma, mental illness, substance, and sexual abuse.
The Community Garden and Recreation Project will have a long-lasting impact on these students and the school community. This project was made possible by donations and in-kind contributions from many individuals and corporate sponsors, including M&T Bank (also LTV Founding Sponsor), CDPHP (also LTV Presenting Sponsor), Berkshire Bank, Fenimore Asset Management, JP Morgan Chase, Laborers Local 190, Luizzi Companies, MVP Health Care, NYSID, Price Chopper/Market 32, SEFCU, Ungerman Electric, Wainschaf Associates, Inc., and many more.
The LTV Class of 2022 continues to accept donations from individuals to complete this project in early summer 2022. Donations can be submitted online at: https://capitalregionchamber.com/ltv-current-class-project/.
Project includes:
Pavilion structures: (2) 24' x 32' timber framed pavilion structures totaling 1,536 square feet (SF) of exterior learning space and shaded areas for warm days.
Shed: 10' x 10' totaling 100 SF of additional storage space.
Raised garden beds: (6) 3' wide x 6' length x 24 inch tall (4-tier) beds.
Picnic tables: (8) 6' heavy duty rectangular picnic tables for use under pavilion structures.
Funds raised from corporate/individual donations:
$39,000 with an additional ~$20,000 in in- kind donations.
Project Sponsors:

Platinum Sponsors
o Laborers Local 190
o Luizzi Companies
o M&T Bank
o MVP Health Care
o SEFCU
o Ungerman Electric
o Wainschaf Associates, Inc.
Gold Sponsors
o Berkshire Bank
o Fenimore Asset Management
o JP Morgan Chase
o NYSID
o Price Chopper/Market 32
Silver Sponsors
o CDPHP
o Turner Construction
o 1st National Bank of Scotia
o Merit Pages, Inc.
o Community Care Physicians
Bronze Sponsors
o DeCrescente Distributing Company
o CAP COM Federal Credit Union
o Mazzone Hospitality
LTV Program Sponsors:
Founding Sponsor

Presenting Sponsor