News
July 12, 2018
Zeem Solutions Brings Turnkey Solutions for Fleet Owners to Capital Region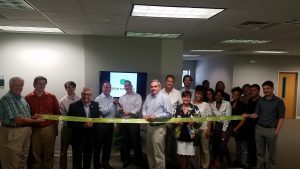 The Chamber was pleased to help officially open Zeem Solutions in Schenectady on Wednesday, July 11.
Zeem Solutions is a service provider acting as EV consultants for commercial electric vehicle fleet operators. The company has over 10 years' experience in the commercial EV sector as advisers, investors and thought leaders.  They have been recognized for helping commercial fleet owners convert their diesel fleets to zero emission in a seamless and cost effective manner.
Their new location in Downtown Schenectady is a result of a love for the Capital Region, the ambitious labor pool and the goals of the Clean City initiative.