News
November 8, 2019
Victoria Aesthetics, LLC Opens in The Town of Clifton Park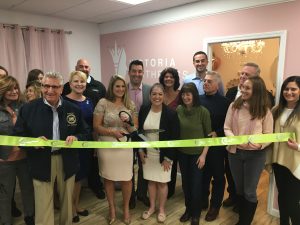 The Chamber had fun attending the Victoria Aesthetics ribbon cutting on Thursday, November 7.
Victoria Aesthetics is not your traditional spa or salon. After spending 15 years in the healthcare industry, owner Victoria Gondar, NP was discouraged and frustrated with some of the difficulties in today's corporate health system. "I wanted to spend more time with my patients but I was confined to corporate time limits and bureaucratic red tape." As Gondar began researching her dream of owning her own business, she quickly identified a gap in the medical spa space.
As a licensed nurse practitioner, Gondar brings an invaluable skillset to every patient. Her training and knowledge of medical conditions, medications, and other factors that impact spa treatments and eyebrow microblading have proven to be vital in providing safe medical spa treatments. Her dedicated background helps prevent complications from arising by following the strictest guidelines for services, as well as mandanaging any adverse events that may arise. Gondar states "the health and safety of patients must be at the forefront of every service offering."
In addition to providing safe and effective medical spa treatments, Gondar states "Our patient care is a comprehensive experience beyond just the services provided. Patients are friends. Our mission is not just to support the beauty and anti-aging of our patients, but ensuring their well-being is a top priority. I want people to be comfortable in their treatment decisions and never to feel pressured. Our approach is tailored to each individual, and I'd never recommend treatment I don't feel is necessary. People respect my honesty, which builds a trusting long-lasting relationship."
The medical aesthetics industry has the potential for tremendous growth. Victoria Aesthetics is thrilled to open and eager to expand the practice to meet the needs and wants of the community.