News
May 15, 2019
Victor Gaudin Opens New State Farm Agency in Niskayuna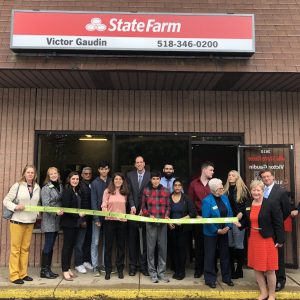 The Chamber, its Ambassadors, local elected officials, friends and family were all on hand to support Victor in his new venture on Tuesday, May 14. Victor graduated from the University of Houston with a B.B.A. in Business Administration in 1999. He and his wife, Marcela, moved to Ballston Spa from Texas in 2005.  They have two sons, Yann (17 years old) and Stefan (15 years old).
"My family and I are excited for the opportunity to be a part of the growing Schenectady business community," says Victor. "I have worked in customer service for 20 years on the retail side and enjoy helping people meet their needs. I am passionate about helping people in all walks of life and am always ready, willing and able to volunteer my time for the good of others."
Victor and his family are active in Saratoga County organizations that focus on assisting Spanish-speaking backstretch workers at the race course. They also provide in-language assistance, when needed, for the Spanish-speaking community.
"We are looking to become more involved with the Schenectady community," says Victor.  "I'm attracted to this area because of the amazing growth the city is experiencing.  I love the downtown revitalization. My family and I have spent many hours enjoying the theater, casino and quality restaurants. We are also avid skiers and our favorite mountain is Mad River Glenn."