News
November 29, 2021
Vaped City Expands and Remodels Flagship Store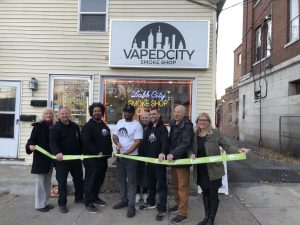 The Chamber took part in a ribbon cutting on Tuesday, November 27 for Vaped City.  The newly expanded and remodeled store was attended by local elected officials, law enforcement, family, friends and Chamber staff and Ambassadors.
Vaped City, located in Scotia, is Donald Andrews' first business, which he opened in January of 2013. Andrews grew up in Schenectady and went to Schenectady High School. When he graduated, he became interested in glass blowing and decided to get into the industry. Although he didn't pick up glass blowing, he opened his store on the main strip of Scotia and provided quality smoking accessories to Capital Region. Since business has been successful over these eight years, Andrews decided to purchase the other side of the building and expand his store.
Says Andrews, "At Vaped City, we genuinely believe the quality of our products is of utmost importance. The array of products we offer comes from all over the country, including many local options; this guarantees that you will find something that fits your style. Our staff  provides a unique experience upon arrival with expertise customer service, cannabis advocacy, knowledge on all of the products, and a friendly approach to finding what speaks to you."
All ribbon cuttings are sponsored by Saratoga National Bank and Trust Company.