News
February 3, 2020
US Army Recruiting Battalion Moves to Clifton Park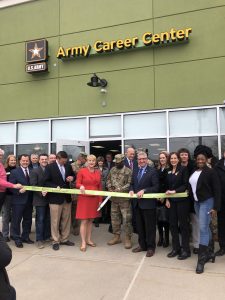 The Chamber was honored to take part in the Albany Army Recruiting Battalion's grand reopening on Friday, January 31st.  The office moved from its former location in Green Island to its new office at 22 Clifton Park Road, Suite 170, Clifton Park, NY.  They are hoping this new centralized location will allow easier access to potential Army candidates.
The US Army Albany Recruiting Battalion is a team of proud professionals where all team members understand the importance of sustaining the All-Volunteer Army for our Nation and are empowered and committed to doing their part to accomplish the recruiting mission. We will provide a positive recruiting experience to all personnel by taking care of soldiers, civilians and families while maintaining the public's trust. Our shared goals will inspire the highest qualified men and women to enlist into the Active Army and the US Army Reserve ensuring the security and readiness of our nation.
For more information, call U.S. Army Recruiting Battalion at (518) 266-7446.