News
January 25, 2021
Upstate CBD Opens 3rd Location in Glenville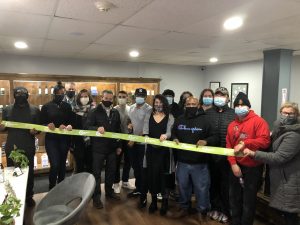 The Chamber was elated to participate in Upstate CBD's ribbon cutting for their 3rd location on Thursday, January 21st.
Upstate CBD is a local Cannabidiol (CBD) dispensary offering top-shelf CBD hemp buds, tinctures, edibles, extractions, topicals, and pet products, which deliver an array of therapeutic effects due to its interaction with the endocannabinoid system.
After much success with Vaped City, located in Scotia, and the original Upstate CBD, located in Schenectady, Donald Andrews, owner, was approached to open another Upstate CBD causing him to increase his market on this method of alternative healing. This location offers a much larger facility to expand on endeavors within the industry, which will be helpful in pursuing the next step in his career as an entrepreneur. At Upstate CBD, the ideas are constantly flowing between Renata Filiaci, MSHW, Manager and On-site Holistic Practitioner, and Andrews as they continue to create a space with a multitude of holistic education and knowledge as well as a friendly atmosphere.
The staff at Upstate CBD genuinely believe in the products and their suggestive and potential health benefits, including anti-inflammatory, sleep-promoting, pain modulating, immune-enhancing, neuroprotective, tumor suppressant, antibacterial, anti-epileptic, reduces appetite for narcotics, antidepressant, and anti-anxiety. At Upstate CBD, the staff will provide a unique experience upon arrival with knowledge on all of the products and ingredients listed as well as adequately promoting the use of CBD for your desired need or illness. Also, through private consultations, Filiaci can create a complementary and alternative medicinal regimen as a foundation for gaining homeostasis with the use of many integrated modalities.