News
November 10, 2021
UMAC Recognizes Military Bases' Regional Impacts Amid COVID & Growing Service Member Ranks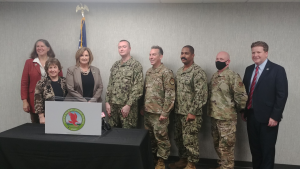 In lieu of its annual Veteran's Day event, the To Honor and Serve Breakfast, the Capital Region Chamber's Unified Military Affairs Council (UMAC) recognized the significance of the region's military installations and growing ranks of active-duty service members in the regional economy.
In addition, Marshall & Sterling and Price Chopper/Market 32 were recognized for their generous financial support as UMAC Champions.
Military Installations During COVID-19
Leaders from the Chamber, UMAC, 109th Airlift Wing of the New York Air National Guard and Navy Reserve Center Schenectady today highlighted how local military installations have served not only as assets to national security but also to the region's recovery from the COVID-19 pandemic.
For instance, the 109th Airlift Wing of the New York Air National Guard providing COVID testing and meal delivery services in the Capital Region. Stratton Air Base in Glenville also served as a vaccination site for Department of Defense personnel and contractors. The Watervliet Arsenal last December became one of DoD's first vaccination sites for military personnel and defense contractors. In the 2021 federal fiscal year, there were about 300 firms with defense contracts in the Capital Region, according to a Center for economic Growth (CEG) analysis of USAspending.gov data.
"Defense is a major industry in the Capital Region's economy – one larger than many realize," said Chamber President and CEO Mark Eagan. "Tomorrow, our nation will celebrate and honor the important role the members of our armed services have played, and continue to play locally, nationally, and globally. While the focus of Veteran's Day is often on those who have served, it's important that we also recognize those who are presently serving our country."
"We're out there on the front lines to help mitigate the horrible thing that COVID is, and we're all dealing with it. But as essential workers we're happy to step up and be able to do that successfully, because, honestly, it gets everyone back into the businesses to be able to support what they do for our local economy," said Col. Robert Donaldson, the 109th Airlift's vice commander.
"During COVID, especially, I saw the grit in our citizen-soldiers. When the call came to support missions in New York City at the height of COVID, the USNS Comfort pulled into New York City and we were able to provide nurses and doctors to support that mission. We were also able to offset some of the hospital casualties by sending personnel to the Jacob Javits Center, where they staged a mock hospital. And we provided support for it. And finally, when the shipyards were impacted because their personnel were going down to the virus, we participated in the largest mobilization in Reserve history by providing shipyard workers to offset the lost hours of manpower," said Navy Reserve Center Schenectady Cmdr. Ernest Jessop.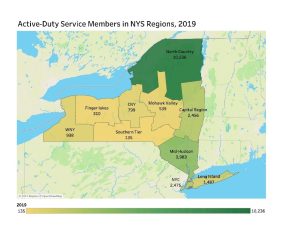 Growing Active-Duty Service Member Labor Force
The Chamber recognizes and supports our area military installations throughout the year through the UMAC. This council includes the New York Air National Guard's 109th Airlift Wing; Naval Support Activity Saratoga Springs, Nuclear Power Training Unit Ballston Spa, Watervliet Arsenal, U.S. Army – Albany Recruiting Company and Navy Reserve Center Schenectady.
The Capital Region labor force consists of more than 2,400 active-duty service members – that is the third greatest number in upstate, according to the latest Census estimates. In fact, between 2015 and 2019, the region's labor force saw an increase of 293 active-duty service members – the largest increase in upstate. Even more, Rensselaer County's labor force saw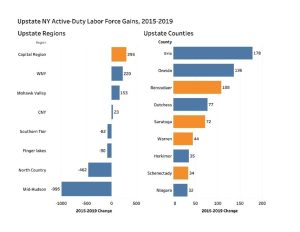 upstate's third largest increase in active-duty service members, increasing by 108 to 247, and Saratoga County saw the fifth largest, increasing by 72 to 1,647. Saratoga County also has the state's third greatest number of active-duty service members, according to a CEG analysis of U.S. Census Bureau five-year estimates.
In addition to these active-duty service members, the federal government in 2019 employed 1,523 civilian workers in the Capital Region's national security industry in 2019, up 220 from five years earlier. At 1,223, Albany County had the fourth most federal national security civilian workers in the state and Schenectady County had the 10th most at 209, according to data from the U.S. Bureau of Labor Statistics.
"The Unified Military Affairs Council provides as a valuable forum to connect the commanders from area military units to one another, and with civic leaders. It's a trusted place to share ideas and provide support where needed," said UMAC chair Lynn Manning.