News
February 27, 2020
True Juice Café is Schenectady's Newest Fast-Casual Restaurant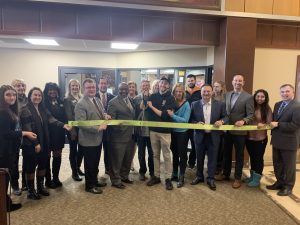 On Thursday, February 27th the Chamber helped cut the ceremonial ribbon for True Juice Café.
True Juice Café is a new, fast-casual restaurant with seating for 65 that is bringing healthier options to downtown Schenectady. Their menu includes RAW Cold-pressed juice (made fresh in store daily), coffee, smoothies, acai bowls, soups, baked goods, and healthier grab and go items.
True Juice Café was founded by David Kosineski in 2019. David grew up in Niskayuna, NY and graduated from Niskayuna High School in 2013. After high school, David pursued a career in the hospitality industry working for companies like Benchemark Printing, Starbucks, Levy Restaurants, Stockade Inn, and CoreLife Eatery. David attended Schenectady County Community College, now SUNY Schenectady, and graduated with a degree in Hotel and Restaurant Management  and a concentration in Beverage Management in the Spring of 2018.
This new healthy focused café is now open in Downtown Schenectady, and is located at 251 State Street in the New York BizLab building on the ground floor next to Saratoga National Bank. The Café has access from State Street with private parking and an entrance in the back of the building, which is off Liberty Street.
Their mission is to serve their community by offering the healthiest selection of food possible. They offer our patrons the highest quality of food in a fast fashion and believe in having a company that is transparent and makes decisions for the integrity of their values concerning their products and culture.  True Juice Café believes in building around their community; that is why they focus on local products and food.