News
September 10, 2018
Three Buckets Wealth Management Opens its Doors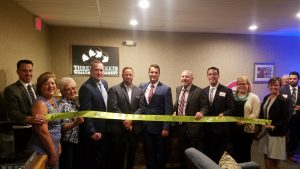 The Chamber was honored to be part of the grand opening and ribbon cutting for Three Buckets Wealth Management's new office at 1205 Troy-Schenectady Road, Suite 103 in Latham on Thursday, September 6.  The partners of the firm were visited by local elected officials, friends, family and clients.
The firm hopes their new office will be both aesthetically pleasing to their clients as well as centrally located with easy access.  The office is a mix of personal design but has an industrial modern theme that will certainly wow visitors.
Three Buckets helps clients achieve their dreams for today, tomorrow, and well into the future — using our exclusive Confident Retirement® approach. It starts with a personalized conversation about covering essentials, ensuring lifestyle, preparing for the unexpected and leaving a legacy. By breaking your financial goals down into doable steps, we can help take the uncertainty out of planning for your financial future.
We're here to help you live the life you've earned. When you have the right financial advisor, life can be brilliant.