News
August 13, 2019
The Whistling Kettle Opens Its Third Location in Downtown Schenectady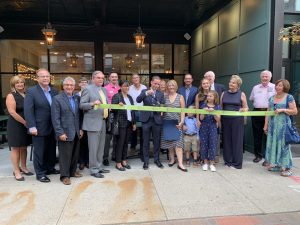 The Chamber was happy to see the expansion of The Whistling Kettle in Downtown Schenectady. A large crowd made up of the Chamber and its Ambassadors, family, friends and patrons were on site celebrating this great new establishment located on Jay street in Downtown Schenectady.
Kevin and Meahgan Borowsky have once again expanded with a third location in the Capital Region. Schenectady was chosen as a strategic location giving WK customers more opportunities to enjoy what The Whistling Kettle offers – A thoughtful interior, friendly staff, delicious food, and a large selection of tea, coffee and accessories for home brewing.
Jay Street offers the ingredients that has made previous Whistling Kettle locations a success. A pedestrian only street with plenty of parking nearby, a resurgent downtown, local cultural attractions like Proctors & higher learning institutions like Union College and SUNY Schenectady. The location affords guests who were too far from the other locations a spot closer to them.
The Whistling Kettle is known for its extensive tea and beverage selection. They have the largest selection of teas in the Capital Region, offered loose for home brewing as well as hot or iced, served in-house or to-go. Whistling Kettle has 2 other locations, the first in downtown Ballston Spa which just recently celebrated 15 years of service. The 2nd location opened just 5 years ago and is located near monument square in downtown Troy.
Four years ago, Kevin and Meahgan purchased a building in Troy to serve as WK's Blend Lab and Online Distribution Center. Having the extra space has allowed the company to grow and branch out to new areas of the business, including designing and producing a line of custom teaware products that are Whistling Kettle exclusive, as well as wholesale and on-line sales.
Kevin and Meahgan both had the entrepreneurial bug and decided to open the first Whistling Kettle as they felt they could introduce a modern interpretation of tea without the lace or frills. No fryers, no soda and an honest menu filled with selections that appeal to all ages and sexes. Besides a huge tea menu featuring expertly curated tea, there are ½ dozen types of coffee, beer and wine and unique specialty tea cocktails.
Kevin has a background in Computer Engineering Technology, for which he received a Bachelor's degree from SUNY IT. He worked in the information technology sector at Entertainment and Investment banks in New York City. Kevin enjoys hobbies such as home brewing, fish keeping and studying history, economics and geo-politics.
Meahgan has a background in Fashion and Costume design. She graduated from Florida State University with a major in Fashion Design, Minor in Costume Design and a Minor in Business. She worked in the fashion industry in NYC for 5 years before the move to Upstate New York.
Kevin and Meahgan have 3 children and in fact were pregnant with their first child when Ballston Spa first opened.
For the third location, Kevin and Meahgan decided to seek out a building to purchase and renovate. Jay Street has a unique feel and is surrounded by other small businesses. It was an ideal time to invest in a property, renovate it to suit and be part of Schenectady's downtown resurgence.
Meahgan and Kevin are both fully involved in all aspects of the business – from menu and interior design, training, product design and curation. They select the music mix personally, and are always helping fix problems as challenges present themselves.
From the art on the walls, the furniture, displays and even our bathrooms – their business is the mix of old and new. Their goal is to make visiting the Whistling Kettle an experience – from a family gathering, business meeting or going out with friends – it's a destination for a special occasion, or just when you want to feel special. They offer comfortable surroundings with a menu and products not available anywhere else and at reasonable prices.