News
July 25, 2022
The Speckled Hen Celebrates Years of Community Involvement, and a New Beginning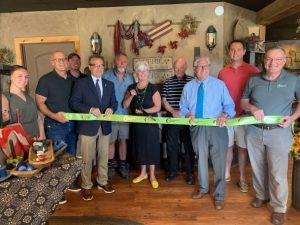 The Capital Region Chamber led a ribbon cutting at the Speckled Hen (14 Saratoga Rd (Rte 50), Glenville, (518) 369-8771) in mid-July, a special occasion that really drove home the meaning of "community".  With State Senator Jim Tedisco, Supervisor Chris Koetzle, Councilman Jim Martin, LDC Chair Richard Usas, and the many others there in support, owner Maureen Culver and her husband Tom cut the ribbon commemorating 10 years in business with their gift store plus a brand new location with a dedicated store, ample parking and a wonderful layout for shoppers to browse around.
"Thank you for making my Ribbon Cutting Ceremony so wonderful! All the kind words and support was overwhelming. Truly was heartwarming!!! Here's to many years to come!" said Maureen in a social media post after the event. Senator Tedisco and Supervisor Koetzle both spoke glowingly about what the Speckled Hen, and Maureen herself, has meant to the Glenville community, thanks to her generosity and desire to be involved in the hometown she loves so much.
The Chamber was thrilled to be a part of it. In 2012 it was the Chamber of Schenectady County that performed the ribbon cutting, and on a piece of the ribbon saved back then is the signature of the late Chuck Steiner, former President and CEO of that Chamber who did so much to bring the diverse Capital Region communities together along with current Capital Region Chamber President and CEO Mark Eagan. Today, the Chamber of Schenectady County is an affiliate of the Capital Region Chamber, and small businesses like Maureen's are connected at every level from local main streets all the way to the heights of business growth throughout the region.
For this reason, it was especially exciting to be there, making new memories, and celebrating a family-owned business while C-130s from the adjacent air base flew overhead on practice runs. This is a special, close-knit community, and they'd love for you to visit!!
The Speckled Hen is open Wednesday-Friday 10-6, Saturday 10-4.
All ribbon cuttings are sponsored by Saratoga National Bank and Trust Company.