News
November 21, 2019
The Schenectady Trading Company Officially Opens on Union Street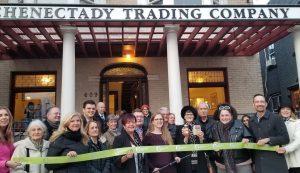 The Chamber, along with many elected officials, Ambassadors, local vendors as well as a large group of friends and family participated in the Schenectady Trading Company's ribbon cutting on Thursday, November 14th.
Owner Caroline Bardwell opened her doors on September 20th to a warm and encouraging reception for her new retail venture, The Schenectady Trading Company, located at 609 Union Street (also referred to as 'Restaurant Row'). The store carries a wide variety of goods sourced from Schenectady County and offers the welcoming feel of a country general store. Merchandise is appealing across generations and was assembled with the modern consumer in mind. Food inventory includes fresh coffee and cold beverages, novelties, prepared and packaged foods, and farm produce. Souvenirs and gifts include handmade items, artwork, drinkware, apparel and accessories, jewelry, decorative items, books and CDs. The store is tastefully furnished with antiques and vintage items that complement the overall store layout. There is space to relax and pull up a chair, with free wi-fi and a visitor's information rack highlighting local events and attractions.
The Schenectady native is switching careers from professional geologist to independent shopkeeper in order to present her personal take on the type of retail store where commerce can actually build community. Frequently asked what prompted such a drastic move, her response is that she wants to show other people the side of Schenectady that she sees. A couple of years ago she wrote an editorial to the Daily Gazette stating that she believed that Schenectady possessed all of the ingredients it needed to be a thriving community, if it could build on its strengths, harness its resources and channel that potential in the right direction. Inspired by the creativity and vision of other entrepreneurs that have invested her city, she became convinced that she needed to heed her own words and be part of the change she believed could happen. That vision was to create a space where Schenectady was a source of pride, where the entire business was constructed around the concept of place. This marketplace would carry affordable products that held widespread appeal, but that were rooted locally. It would be a better kind of company with the agility of a private enterprise, but the mission of a non-profit. She would create a welcoming place full of positive creative energy where connections could be made that could grow into something larger.
Her passion and creativity were fueled by some very difficult personal experiences that prompted her to reevaluate the direction her life was headed and what was important to her. Compelled to cultivate something of her own, she began to engage with the local creative community more intentionally, with memberships at The Electric City Barn, the maker space in Hamilton Hill, and The Clinton Street Mercantile, which opened last year downtown. She began writing, performing, and eventually publishing poetry and pursuing her love for nature, historic architecture, and landscape photography. She started selling her own work in the marketplace and this idea of a business with a hyperlocal focus took shape.
Early on, she saw the building at 609 Union and fell in love with its character. She believes that it offers a great pairing of old and new and that this block of lower Union Street has several unique characteristics that make it ideal: attractive buildings with patio seating, a variety of dining and entertainment options, a nearby college campus, a mixture of residential, commercial, professional offices along an easily accessible main corridor transecting the city. She thinks what's missing from this spot is that every day retail where a customer can run in on their way to or from an errand or during a stroll around the block, to grab a quick coffee or snack, to pop in and grab a gift or card, someplace to indulge in a small novelty. That as a culture we are so centered around eateries and bars as the indicators of a city's economic vitality, and they can be, but small independent retailers can really strengthen a community and provide some stability – a friendly face perhaps, a space to gather, to learn about what's happening around you, to engage in creativity, or to be introduced to a place and what it has to offer. The Schenectady Trading Company is a store where you can proudly bring visiting friends or family or buy gifts to send to loved ones elsewhere that are a representation of your area.
At her store, customers can expect an authentic experience with genuine interest and attention from the proprietor, a place where heritage and roots are celebrated, a space where it's okay to be yourself. She wants to know how she can facilitate connections between people, how she can promote that sense of community and strive to be a grounding force. They can expect that she has assembled a wide variety of merchandise that reflects the talent her community possesses, from individual artisans to family-run businesses with a long history of investment. According to Caroline, transparency is essential to the modern and so is the desire to support businesses that stand for something. She understands that people are endlessly busy and distracted and believes that if she does the work of bringing all these wonderful things together in one place, that they will come and shop and feel good not only while they are there, but after they've walked out the door. Instead of only seeking these things out seasonally or traveling elsewhere, that Schenectady County has both the goods and the market to sustain this local interest year-round in a brick and mortar establishment.
Caroline wants the store to be as much for locals as visitors and plans to host a variety of meetups, workshops, pop-up events and performances in the indoor space and on the front patio. She is working on her e-commerce website so that out-of-towners with a connection to Schenectady County can also shop online.
For more information contact Caroline Bardwell at 518-280-3036 or [email protected]