News
June 14, 2021
The Nest Restaurant Cuts the Ceremonial Ribbon in Schenectady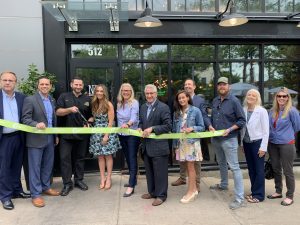 The Chamber, along with many Schenectadians, dignitaries, friends, family, diners and supporters celebrated the opening of The Nest and it's outdoor patio space on Friday, June 11th, although Capital Region residents have been sampling good ol' Southern hospitality and cuisine at The Nest at 512 State Street since October 2020.
The Nest is the third endeavor of restauranteurs Devin and Kaytrin Ziemann, who entered the area's culinary scene with the openings of Crave in Albany in 2015, followed quickly by the establishment of The Cuckoo's Nest in 2017.  "This was always a dream…to one day own my own restaurant and now we have three," said Devin, a graduate of several years in the restaurant industry and the culinary program at Schenectady County Community College.  Following graduation, Ziemann worked in kitchens under many noted chefs at several prominent area restaurants finally rising to the title of executive chef which resulted in his being named the 2014 Wine and Dine Arts Festival Rising Star Chef.  Devin's wife and business partner Kaytrin graduated from SUNY Oneonta with a BS in dietetics and food service and has worked in the industry since 2006.  "I've always loved working with people and we take our service as seriously as we do delicious food and drink," says Kaytrin, adding that family is an important concept in their operation.
"Our staff is more of a family than just co-workers and we're passionate about cultivating that feeling of family from our team to our guests. Nothing is more important to us than an overall excellent experience," she said.
Why Schenectady?  "The location really picked us," said Devin adding that while the couple was out of town when they heard of the vacant space they quickly contacted the landlord to take it over and move in.  "It really was an opportunity that we couldn't say no to," he said.  The Zeimanns say that guests can expect an element of "above and beyond" at all times.  "Opening during a pandemic made us especially sensitive to the fact that many guests are only now returning to dining out for the first time in over a year. We're very excited to make their experience memorable from our unique food options and cocktails to exceptional service," said Kaytrin.
All ribbon cuttings are sponsored by Saratoga National Bank and Trust Company.