News
July 24, 2019
The Lazy Axe Ribbon Chopping
The Chamber was thrilled to be on hand to help "chop" the Ribbon for one of Albany's newest venue, The Lazy Axe. The Lazy Axe will be bringing the rapidly growing sport of indoor axe throwing to a newly renovated location at 1865 Central Avenue. Their ribbon-chopping event was on Friday, July 19, 2019. Chamber ambassadors, guests, media and the owners, Kristyn Muller and Mark Mirasol were on hand to about their brand-new business venture.   Muller and Mirasol first got hooked on axe throwing after trying it in Wichita, KS while on a road trip (during which the couple got engaged!) in August 2018. Upon their return home to Albany, NY, they searched for indoor axe throwing facilities an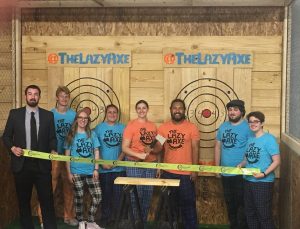 d realized that the nearest ones were 1.5-2 hours away in Springfield, MA (Agawam Axe House) and Hartford, CT (Pine & Iron Axe Throwing). After researching the rising popularity of axe throwing and realizing that New York's Capital Region did not have an indoor axe throwing facility, they came up with the idea of starting The Lazy Axe.
The opportunity to create a new, unique business from the ground up provided a learning experience too exciting to pass up for the couple. In preparation for this business venture, they visited over 10 different axe throwing facilities across the United States and Canada. In doing their research, Muller and Mirasol found that most axe throwing facilities focus on the "extreme" nature of the sport, highlighting "intense" themes. As professionals with backgrounds in education, Muller and Mirasol are intentionally looking to break down any intimidation factor and make axe throwing more accessible to anyone that would like to give it a try. The company's blue and orange color scheme is meant to portray The Lazy Axe as a welcoming space for people of all backgrounds to try axe throwing in a safe, relaxed, and positive environment. With this in mind, they have hired 10 friendly and highly-trained Axeperts to ensure guests are throwing properly and safely.
That is not to say that axe throwing is all fun and games. While the majority of guests will be throwing axes for fun, The Lazy Axe also hopes to create a competitive environment for axe throwers of all levels. As an affiliate member of the World Axe Throwing League (WATL), The Lazy Axe will host official leagues and tournaments. League participants will compete to qualify for WATL tournaments such as the World Axe Throwing Championship (which was televised on ESPN in December 2018).   Muller and Mirasol also look to leverage their extensive experience in higher education settings by offering their expertise in leadership training, team building, communication, and organizational management to support any group looking for professional development opportunities. In addition, they plan to give back to the community through partnerships with local non-profit organizations. To date, The Lazy Axe has donated a gift card as an auction item for the Capital District Raiders Baseball Program's Golf Tournament Fundraising Event and they have been in conversation with the American Cancer Society about partnering on future events.
The Lazy Axe team is excited to bring axe throwing to New York's Capital Region and hopes to help the sport grow in popularity. Muller states, "Solidly sticking the axe into the bullseye creates such a satisfying feeling of accomplishment. Axe throwing has become the sport I never knew I needed!" Mirasol agrees, "Axe throwing is surprisingly cathartic. It's a fun way to relieve stress in a low-stakes social setting. I love how much of an equalizing activity it is: most of our guests will be trying it for the first time with us and learning to throw together, so it is our job to show them that anyone can do it successfully! We hope folks come chillaxe with us at The Lazy Axe!"